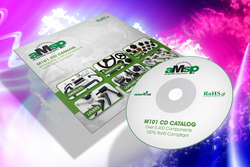 New Hyde Park, NY (PRWEB) March 23, 2009
A new Hardware catalog on CD-ROM from All Metric Small Parts - aMsp features eStore Interactive links to over 5,400 100% RoHS compliant components.
The CD-ROM, identified as M101, features all Metric components. The products detailed include: Handles, Handwheels, Cranks, Grips, Levers, Knobs, Latches, Locks, Catches, Hinges, Screws, Washers, Springs, Keys, Plungers, Pins, Leveling & Support Feet.
A highlight of the product line on CD-ROM is that 3-D CAD models are available for download at the Web site. Section 1 of the catalog features over 370 handles available from stock in lockable and unlocked types in over a dozen materials ranging from stainless steel, aluminum, brass, nylon, die cast zinc, etc. Applications include: digital equipment, machine tools, distribution boards & panels and medical equipment. The CD-ROM also offers a useful technical data section which includes: fractional and decimal inch & metric equivalents, standards for metric threads, isometric tolerance charts for shafts, holes, millimeter and inches, and material standards by symbol and material.
Detailed specifications are contained in CD-ROM M101, available free upon request from All Metric Small Parts - aMsp, 2101 Jericho Turnpike, New Hyde Park, NY 11042-5416. Phone: 516-302-0152
Fax: 516-302-0153 Web: http://www.allmetricsmallparts.com/press/M101CD.htm
Note to Editor: An electronic version of this release including a 300 D.P.I. at 3" wide .JPEG image can be downloaded at: http://www.allmetricsmallparts.com/press/M101CD.htm
###