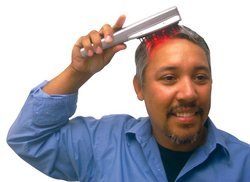 Customers who use the Sunetics' Laser Paddle Brush for at-home laser hair therapy care will also be able to use it on the road when they travel since it is so portable as well as rechargeable
Las Vegas, NV (PRWEB) March 3, 2009
Sunetics International announces the official launch of the new Laser Paddle Brush, an advanced at-home hair care device for men and women with weak or thinning hair that delivers a greater degree of low level laser energy to the scalp than any other hand-held unit on the market.
"Sunetics' Laser Paddle Brush is an important advancement for consumers as it provides the maximum level of scalp coverage at a more optimal low level laser energy wavelength than any other 'brush' or 'comb' currently available," said Dr. Charles Maricle, Chief Technological Officer of Sunetics International. "Low level laser therapy has been demonstrated to effectively improve the appearance of hair, making it look fuller, thicker, shinier and healthier."
With the new Laser Paddle Brush, Sunetics has enhanced the size of the laser area by creating three rows of laser diodes utilizing 12 true laser diodes. Sunetics also uses its patented technology to expand the laser beam pattern, thus creating a superior coverage area of laser energy. The Laser Paddle Brush was developed to deliver the largest coverage area of all hand-held devices so that consumers can experience in the privacy of their own homes the maximum amount of laser energy at the optimal wavelength level. The average usage time is just 10 minutes per day, three times per week.
"Customers who use the Sunetics' Laser Paddle Brush for at-home laser hair therapy care will also be able to use it on the road when they travel since it is so portable as well as rechargeable," says John Carullo, Director of Marketing for Sunetics.
Key Facts for Consumers About the Sunetics' Laser Paddle Brush:

Maximum Laser Energy - Designed with 12 true laser diodes, the most of any other hand-held unit on the market. Each laser diode used for hair rejuvenation has a wavelength of 650 nm.
Superior Scalp Coverage - Uses multiple, wide-pattern, true laser diodes to provide maximum coverage of the scalp for men and women. The laser diodes are positioned on the brush to produce an expanded elliptical laser light pattern that provides maximum coverage of the scalp.
Portable - Unlike other hand-held laser devices that are plugged in, the Laser Paddle Brush is cordless and uses a rechargeable battery to make it portable and easier to use with maximum energy.
Unique Bristle Design - A true laser "brush," the device has over 75 soft, gentle scalp-massaging bristles. The unique soft bristles are designed to not break or damage fine or weakened hair.
Certified, Patented and Approved - The Laser Paddle Brush is a U.S. patented device (#7,258,695) that is CE-certified and complies with all FDA manufacturing standards and safety regulations for personal use as well as 11 FDA performance standards for laser products.
Evidence for Low Level Laser Hair Therapy:
In January of 2007, the U.S. Food and Drug Administration (FDA) officially cleared the first hand-held laser device (http://www.fda.gov/cdrh/pdf6/K060305.pdf) to treat hair loss and to re-grow hair.
Previous cosmetic clinical studies performed by Sunetics have shown that, as a result of its laser hair therapy program, 86-percent of participants reported the appearance of healthier hair, 78-percent reported the appearance of thicker hair, 76-percent reported the appearance of fuller hair and 85-percent of the participants reported overall satisfaction with the Sunetics Laser Hair Therapy program.
About Sunetics International
Sunetics International is a leading U.S. manufacturer of low level laser devices that are regularly used by doctors for the care of weak or thinning hair. Sunetics also offers devices for acne, wrinkles and skin rejuvenation. Established in 2003, Sunetics is a registered cosmetic manufacturer with the FDA and provides both hand-held laser devices and in-office clinical laser units. For more information about low level laser devices or products from Sunetics, visit http://www.sunetics.com or call 1-888-266-2232.
###