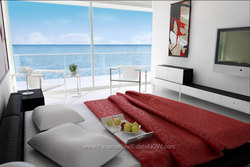 Our product is head and shoulders above anything else on the market. Products currently used in the hospitality industry, like Ozone and Hydrogen Peroxide are known to be expensive and labor intensive. They are damaging to the environment and are recognized as toxic and carcinogenic by the EPA
Los Angeles (PRWEB) March 2, 2009
Biocide Systems recently unveiled Clo2 Room Shocker™, a revolutionary new technology guaranteed to disinfect, kill mold and completely deodorize any room in just a few hours leaving the area free of offensive odors, bacteria and microbes. The Room Shocker packages the disinfecting super power of Chlorine Dioxide into a small, affordable and easy-to-use canister.
"The Clo2 Room Shocker™ is ideal for the hospitality industry because it works quickly and effectively to remove odors caused by cigarette and cigar smoke, mildew, vomit, garbage and even pets," said J.C. Baselli, owner-partner of Biocide Systems. "Since the high powered cleaning agent is released through a disposable generator, it is accessible, virtually labor free and extremely cost effective."
The non-toxic Chlorine Dioxide vapors released by the Room Shocker move through the air deeply, penetrating any porous surface, killing odors, molds and microbes in the process. Chlorine Dioxide is used in facilities that require the highest levels of sanitation including hospitals and food processing plants. After September 11th, Chlorine Dioxide was used by the government to kill Anthrax, a deadly spore-forming-micro-organism.
"Our product is head and shoulders above anything else on the market. Products currently used in the hospitality industry, like Ozone and Hydrogen Peroxide are known to be expensive and labor intensive. They are damaging to the environment and are recognized as toxic and carcinogenic by the EPA," added Baselli. "Our product is affordable and it does not release any harmful toxins into the air. It is eco-friendly and it is safe for use around people."
Clo2 Room Shocker™ is perfect for regular use in hotels, motels, restaurants, restrooms, locker rooms and spas. The Room Shocker has already been used by realtors, apartment managers and the general public to remove unfavorable odors at home including those caused by mold, smoke, pets and even skunks.
Clo2 Room Shocker™ can be purchased online at BiocideSystems.com. It is currently available in two formulas, Quick Release and 30-Day Timed Release. Any room can be treated for as little as $20. The Clo2 Room Shocker is also available online to commercial outlets at a discounted volume rate.
###