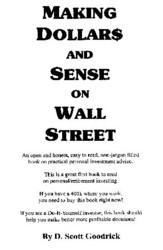 Little Rock, AR (PRWEB) March 3, 2009
There has been many recent failures of investment and banking institutions. These failures were caused in part by the greed and lack of ethics in the leadership of those institutions. The motto of many Wall Street executives is, "What have I done for me today?" How can the average investor survive or even prosper in this environment? The answer is knowledge and making a plan, both are discussed in the book, Making Dollar$ and Sense on Wall Street by D. Scott Goodrick.
Getting the Knowledge:
Making Dollar$ and Sense on Wall Street is a "Big Picture" overview of the process of investing and determining an individual's asset. To often personal investment books focus on several small technical parts of the big picture, losing the average reader along the way.
This is an easy to read, non-jargon filled book. The illustrations are almost all hand drawn. They are simple, but convey Scott Goodrick's concept or message. There is only one math formula in the entire book. That formula is on Time Value of Money and the math is done for you.
Scott Goodrick understands that investing is a very personal and intimidating subject. He creates a comfortable setting then uncomplicated presentation of the material.
Making a Plan:
Scott Goodrick starts Making Dollar$ and Sense on Wall Street with his nine investment guidelines. He explains each guideline he uses to manage investment portfolios for individual or institutions on a daily basis. This is the start of a workable base knowledge that is expanded as you progress through the book.
Scott Goodrick discusses his tactical asset allocation models and how to apply them to the investors own circumstances. Tactical means that his model adapts to changes in the economic environment. It's a fluid dynamic model that looks forward in time to place investments where the market should be heading. Anyone can look in the rear view mirror and tell you where you were. Goodrick always looks ahead and through the windshield.
This book is a very good first step to understanding and then succeeding with your personal investments. If you have a 401k where you work, you really need to read this book. If the reader isn't ready to take control of their personal investments, a chapter is dedicated on how to interview and hire an investment advisor.
For the do-it-yourself investors who already have some investment knowledge, this book will increase your returns. For the people working in the financial planning business this is a must read. This book will help explain to your clients the investment management process.
Scott Goodrick, a visionary, forward looking, successful Portfolio Manager for over fifteen years has developed and refined his simple process of tactical asset allocation for individual and institutional portfolios. He lives an adventurous and unique life. He joined the Marines out of high school, became an expert white water river guide and then an Ocean lifeguard in Florida. At the age of 30 he started his college education in finance. He worked for Dean Witter, Evergreen Investments, several boutique investment firms and his own Register Investment Advisory firm. To find out more about Scott Goodrick and Making Dollar$ and Sense on Wall Street go to http://www.sgoodrick.com.
Scott Goodrick is available for interviews, quotes, articles on a variety of subjects and speaking engagements.
contact: 501.366.5099
Making Dollar$ and on Wall Street by D. Scott Goodrick, June 2008, Soft cover: $14.95, 232 pages, ISBN-13: 978-1438229010 available at Amazon.com
###