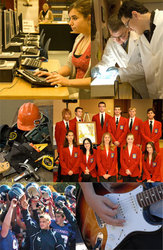 Lexington, MA (PRWEB) March 1, 2009
During this difficult economic time you may have lost a job or fear you may soon have to rethink your career path. The thought of training for a new profession can be overwhelming and challenging. Fortunately, Minuteman Regional High School in Lexington has wonderful programs for pursuing a new career and turning a difficult situation into an excellent and exciting opportunity. Some of which are free of charge or have a small tuition charge for in-district residents in the towns of Acton, Arlington, Belmont, Bolton, Boxborough, Carlisle, Concord, Dover, Lancaster, Lexington, Lincoln, Needham, Stow, Sudbury, Wayland, and Weston.
There will be a Postgraduate Admissions Information Session at Minuteman on Wednesday, March 18, 2009, from 6 to 7 p.m. in the school's Fife and Drum Restaurant. All are welcome.
Minuteman has several one- and two-year programs for those who are motivated to learn a specialized skill and receive certification that will help them obtain meaningful employment.
Applications are currently being accepted for September 2009-10 enrollment. Postgraduates are admitted to Minuteman on a space available basis starting in the spring. The term postgraduate refers to individuals who have either graduated from high school or have their G.E.D. Students enrolled in Minuteman's postgraduate programs are eligible to earn program certificates or Commonwealth of Massachusetts state certification such as the Certificate of Occupational Proficiency.
Adult classes are held during the ten-month period that school is in session and take place in the same labs, shops and classrooms as the high school programs with the exception of the Cosmetology, Dental Assisting and Advanced Automotive classes. Most programs are two years in length with the exception of Dental Assisting, which is a 90-day program, and Cosmetology, which is 10 months. Programs are in session five days a week from 7:45 a.m. to 2:30 p.m. Students must provide their own transportation.
Programs are offered in the following areas: Advanced Automotive Technology (tuition costs apply; students have the option to earn an associate degree from Middlesex Community College and / or a certificate from Minuteman), Carpentry, Collision Repair Technology, Cosmetology (tuition costs apply), Culinary Arts, Dental Assisting (tuition costs may apply), Early Childhood and Care, Electrical Wiring, Electromechanical / Robotics & Automation Technology, Graphic Communications, Heating, Ventilation & Air Conditioning (HVAC), Landscape Management / Horticulture, Metal Fabrication, and Plumbing.
For more information visit Minuteman Regional High School
###