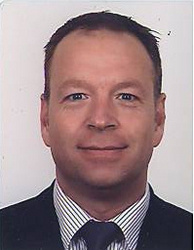 Bart Hendriks' in-depth experience and knowledge of the international healthcare industry will be instrumental as we expand into new markets
Redwood City, CA (PRWEB) March 1, 2009
Ziosoft, http://www.ziosoftinc.com a leader in advanced visualization and analysis software for medical imaging today announced the appointment of Bart Hendriks as managing director for Europe, Middle East and Africa for Ziosoft International, a new office based in Brussels, Belgium. In his new position, Bart Hendriks will be responsible for Ziosoft's business strategy, business development and sales for the company's expansion into new markets in Europe, the Middle East and Africa.
Mr. Hendriks brings over 19 years of global sales, marketing, operations and financial expertise in the healthcare and IT software and hardware industries. He has a successful track record in leadership positions with both emerging and established companies. Mr. Hendriks' international experience includes Europe, the United States, China and India. "Bart Hendriks' in-depth experience and knowledge of the international healthcare industry will be instrumental as we expand into new markets" said Mark Koeniguer, Ziosoft chief operating officer. "Additionally, Mr. Hendriks' technical background and experience in advanced visualization and PACS environments will position Ziosoft well as our operations develop internationally."
Bart Hendriks will attend the European debut of the Ziosoft technology at the European Congress of Radiology at Ziosoft's booth, 586, Expo E, March 6-9 in Vienna, Austria.
About Ziosoft Inc.
Ziosoft, Inc. is a recognized leader in networked advanced visualization and analysis software to benefit physicians, patients, and healthcare specialists. Founded in 1998, Ziosoft is the leading independent advanced visualization company in Japan with over 1800 installed systems. Ziosoft is dedicated to providing intelligent and intuitive clinical tools across the enterprise. Ziosoft is a privately held company with locations in Redwood City, CA, Brussels, Belgium, and Tokyo, Japan. For more information, please visit http://www.ziosoftinc.com.
Ziosoft and Ziostation are registered trademarks of Ziosoft Inc.
###