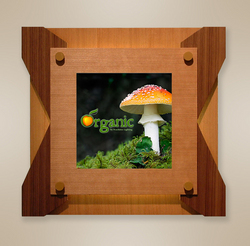 (PRWEB) March 2, 2009
Light as Art. The Peachtree Organic series wall sconce embodies this statement. Beautiful, warm wood veneers and subtle, glowing light add class and style to any space. Peachtree has combined the finest wood veneers and finishes with a sturdy, ADA compliant, commercial grade, energy saving wall sconce. This gives you a durable yet beautiful "art piece" to enhance your room design.
The Organic series is available in 5 standard styles that measure @ 13" x 13" and one standard style that measures 6.5" x 10" perfect for spaces where the larger sconces are overpowering. Peachtree also welcomes your custom faceplate designs for consideration.
There are three standard wood choices available, Birch, Cherry and, Walnut. Many exotic woods and even reclaimed woods are available as custom. The wood finishes may also qualify you for LEED's points depending on your selection.
The Back box is configured to mount to a standard J-Box and is finished the same color as the back layer of the piece as standard. We can provide this in any URL color or a natural aluminum finish upon request. The standard side light pattern glows evenly from all four sides but is available with no side lighting upon request.
You can have lots of fun with the design if using an open window in the Organic series. Many lens options are available including, 3 form™ acrylics, stained glass and custom printed full color graphics.
Lamping options include LED, compact fluorescent and, incandescent. The 6.5" x 10" is available in LED only.
With all of these options you can create custom look "art pieces" for your spaces without breaking the bank. If you desire to go all out and come up with your own custom design, Peachtree will be happy to take a look at it and give you pricing.
To have a look at the full color brochure for the Organics Series simply logon to Peachtree lighting's easy to use website at http://www.peachtreelighting.com. The brochure is located in the Product information section, just select decorative and you will find the link to the brochure about midway down the page.
While you are online have a look around. Peachtree has eight product category sections, Cylinders, Church, Medical, Pendants/Bowls, Decorative, Downlighting, LED and Specialty/Custom. Each section contains a photo application gallery, application guides, printable full color product brochures in PDF format and, much more. A product search database gives you access to almost 6000 commercial luminaire choices many of which are difficult to find and unique to Peachtree Lighting. On the homepage, you will find two educational links, perfect for new staff members or anyone needing to brush up on light or energy.
Contact:
Bryan Bevil
770-787-8490
bbevil @ peachtreelighting.com
###