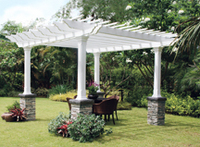 We continually refresh our product line with unique designs using high-tech, maintenance-free materials and plan to introduce more new products later this year and into 2010
Trumbull, Conn (PRWEB) March 6, 2009
Eye Level, http://www.eyelevelliving.com, introduces a new collection of matching products to assemble an outdoor room including pergolas, arbors, cast stone columns, mailbox posts, hose reels and raised accent beds. The exquisitely hand-crafted cast stone collection will be showcased at the Hearth, Patio & Barbecue Expo in Reno, NV on March 19−21 for industry professionals to experience first-hand.
"With a decline in travel and home sales during this current economic downturn, it's an ideal time to remodel or add outdoor rooms as people opt to spend more time vacationing at home," says Diane DeLuca, Director of Marketing for Eye Level. "Homeowners and builders are seeking new ideas for designing stylish outdoor rooms that add value and comfort to the home without adding rooms to the house. Eye Level offers matching products in a wide variety of sizes, styles and colors that make it easy and affordable to achieve a custom look."
"We are especially promoting our flagship product, the Heritage Pergola," adds Brian Schroeder, Vice President of Marketing and Sales for Eye Level. "The Heritage Pergola is handcrafted by skilled artisans, offers an upscale look and feel, is easy to install, and built for many years of outdoor enjoyment. Eye Level's unique new product line is quickly catching on and to promote the launch we are offering special marketing programs on display orders for interested dealers." Interested Dealers should visit booth 2707 at the Hearth, Patio & Barbecue Expo or contact Eye Level about displaying product.
Eye Level has a proven track record of consistently launching innovative products to ensure repeat foot traffic at dealer locations. "We continually refresh our product line with unique designs using high-tech, maintenance-free materials and plan to introduce more new products later this year and into 2010," said George Holley, Founder and Chairman of Eye Level.
About Eye Level
Eye Level Corporation manufactures and markets high quality, maintenance-free outdoor living products that include pergolas, arbors, cast stone columns, mailbox posts, hose reels and raised accent beds. We are a privately held company headquartered in Trumbull, Connecticut with international manufacturing, warehousing in the United States and marketing representatives throughout North America.
Since 2000, Eye Level has consistently expanded its product offerings to satisfy the ongoing demand for innovative and durable outdoor products. For more information on Eye Level, visit the company's website at http://www.eyelevelliving.com.
Contact:
Diane DeLuca, Director of Marketing
Eye Level Corporation
888-782-1760, ext. 152
# # #