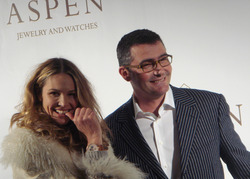 Montclair, NJ (Vocus) March 2, 2009
Bradford Licensing LLC, a global brand licensing firm representing some of the world's best-known logos, trademarks, and entertainment properties is pleased to announce the launch of Aspen One, the first timepiece in a worldwide collection from Aspen Jewelry & Watches.
Aspen, Colorado, the renowned ski resort, is unmatched in natural beauty and rich history. A favorite vacation spot for celebrities and other elite, the former mining town has become synonymous with opulence. Aspen Jewelry & Watches was founded by Netherlands-based brand specialist, René van Ass, known for his professional experience branding and marketing luxury lifestyle goods.
On February 19, 2009, René invited customers to "Meet Me at the Top" for the three-day worldwide launch of Aspen One. With a retail value of US$38,900, the timepiece pays tribute to Aspen in its design and function. In addition to the limited edition timepiece, buyers of the watch will have their names etched into the Aspen One monument, which has been placed on Aspen Mountain's Black Diamond Lode. There will be 3,276 Aspen Ones sold, representing the 3,276 feet of Aspen Mountain; a buyer can essentially own a foot of Aspen Mountain!
The first Aspen One watch was presented to model and entrepreneur Elle Macpherson, who donated the diamond encrusted timepiece to local non-profit organizations, Challenge Aspen and Aspen Valley Ski and Snowboard Club (AVSC). The timepiece will be presented at the launch of Challenge America in Washington D.C. on June 8th, 2009. The second Aspen One watch will be given to the Quality of Life Foundation, based in the Netherlands, which raises money for children's cancer research.
In the tradition of countless visitors and residents of the city, the Aspen® brand represents a lifestyle of environmental and social consciousness, refined taste, and a love of the outdoors. Founded in the 1940's as a complete line of rugged, functional skiwear, Aspen® became a top brand for skiers demanding performance apparel for decades. Today, the Aspen® brand has evolved into an exclusive, high end luxury brand, now available to consumers worldwide via the Aspen One timepiece.
Bradford Licensing plans to extend the brand into product categories such as Parkas, Boots, Sweaters, Shirts, Pants, Ski and Snowboard Equipment. Most importantly, the Aspen® brand will continue to honor the history, community and environment of its namesake, all directed to the high end sector of the retail marketplace.
For more information regarding Aspen Licensing International, Inc., please contact Bradford Licensing LLC at 973-509-0200 or info @ bradfordlicensing.com.
Aspen One-The Timepiece
Founder and CEO René van Ass states, "Aspen is internationally known for its natural beauty, perfect slopes and the glamorous appeal of its famous visitors. Aspen is a brand...a very strong brand. Aspen Jewelry and Watches has been granted the worldwide license to use the Aspen name for the collections we are introducing, the first being Aspen One. By marketing this collection, we are marketing Aspen as it is...and what it was. We will emphasize Aspen's rich history and we want people all over the world to fall in love with Aspen even more."
The precious Swiss-made timepiece, offered in four-color combinations of 18 kt white or rose gold, carries unique features that communicate elements specific to Aspen. A specially-designed compass shows you where you are once on top of Aspen Mountain, and the watch tells you when it is time to change your ski-strap to your apres-ski strap (done in a few seconds with a patent-pending technique similar to removing a ski from a boot) at four o' clock. Orange is the color of the number four on the dial, which in the tradition of the Ute Indians, indicates prosperity, and it would be later known to represent mountain safety. Four is also the time that Aspen Mountain closes its lifts, marking the time for apres ski. On the mountain and around town, Aspen One also presents gloves, specially designed to showcase the face of the watch.
For more information, visit http://www.aspenjewelryandwatches.com .
Bradford Licensing Associates
Co-owner and President Michelle Minieri states, "Aspen Jewelry and Watches has made quite a first impression on both the watch industry as well as the licensing industry in general. From the development of the timepiece incorporating local Aspen elements to the grand introduction at the top of Aspen Mountain, CEO Rene van Ass has truly outdone himself. There are few licensees who have put the time and effort into a program such as he has done, and this will ensure without a doubt his successful extension into the marketplace, with Aspen One and the ranges that follow. Based on what we have seen throughout our 20+ years in the business, this is one license to keep on top of your radar!"
Established in 1986, Bradford Licensing LLC is a full-service brand licensing agency with worldwide brand extension capabilities. Based on leading edge corporate brands, points of interest, celebrities, television series, characters, fashion trends, sporting events and non-profit organizations, Bradford is devoted to maintaining and developing optimal licensing programs in an atmosphere that combines rigorous professionalism with top quality interpersonal services. Bradford maintains a network of agents in all major foreign countries, including Europe, the Asia Pacific Rim, and South America. Current Bradford clients include Pepsi, 7Up, Mountain Dew, City of Beverly Hills, Aspen Colorado, Marilyn Monroe by Shaw Family Archives, PEZ Candy among others.
###