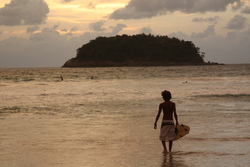 The plummeting visitor numbers following the turbulent economic and political situation, coupled with the recent seizures of Bangkok's airports, has adversely impacted the island's tourism industry…
Phuket City, Phuket (PRWEB) March 3, 2009
Phuket is one of Thailand's leading tourist destinations. The island attracts honeymooners, groups of friends, solo travelers, backpackers and families from around the world. Despite enduring testing times, from the tsunami of 2004 to the political problems of 2008, Phuket has shown itself to be a resilient market. Reacting to the current global economy, many Phuket hotels have reduced their room rates to offset this weakness.
Phuket Vogue, a Phuket travel website, recently announced a partnership with Agoda, an online hotel booking company that offers favorable rates on more than 250 Phuket hotels and resorts.
Tourism in Phuket was dealt a major blow by the tsunami of 2004, but an island-wide effort meant that the bulk of the industry was able to bounce back by the following high season. It looked as if the 2008-2009 holiday season was going to produce record visitor numbers for many Phuket hotels and resorts.
However, there was a wave of bad publicity stemming from Thailand's political instability and culminating in mass protests and airport closures in Bangkok and Phuket.
Local newspaper the Phuket Gazette last year quoted Tanan Tanphaibul, president of the Phuket Real Estate Club, as having said, "The plummeting visitor numbers following the turbulent economic and political situation, coupled with the recent seizures of Bangkok's airports, has adversely impacted the island's tourism industry…"
While Phuket is regarded as a family-friendly destination by those who know it, people unfamiliar with the island were presented with an unfavorable image. Political problems in Thailand are nothing new, but the media attention this latest batch received did little to help entice new visitors Phuket.
According to the Phuket Gazette, "Businesses agreed that the real estate and tourism sectors on the island… suffered from the double impact of a declining economy and the cancellation of visits to Thailand, particularly by foreign tourists."
A number of companies stepped up to weather the storm in an attempt to get people back to Phuket, an island that is said to attract up to five million visitors a year at its peak.
People working in tourism are hoping that offers on Phuket hotels, flights and other incentives will be enough to boost an industry that the island has come to rely on.
Now the island is looking forward to a brighter future, which is why Phuket Vogue chose to partner with Agoda.com, whose close relationship with Phuket hotels means that it is often the first to get special deals, discounts and promotions even for the most popular accommodations.
Five noteworthy Phuket hotels include Indigo Pearl resort, the Thara Patong Beach Resort & Spa, the Millennium Resort, the Twinpalms Hotel and the Sawasdee Village Hotel.
Phuket Vogue is one of the island's leading travel resources with information about everything from Phuket's beaches and islands to nightlife and restaurants. Phuket Vogue is updated daily and is fully interactive, with readers able to leave comments and suggestions.
As a reliable travel resource, it was only a matter of time before Phuket Vogue enlisted the help of Agoda to offer readers discount Phuket hotels.
It was a fitting partnership as Agoda was founded by Michael Kenny whose journey into entrepreneurship began when he set up a mountain bike tour company in Phuket back in 1996. Kenny's business has gone from a concept to one of the leading hotel booking agents on the Internet.
Phuket attracts visitors from around the globe who come in search of world-class beaches, nightlife and restaurants. Phuket also has an active surfing community and the surrounding area is well known as being home to many of the region's top dive spots.
For detailed information about Phuket hotels, beaches, islands, nightlife, restaurants and more, visit http://phuketvogue.com/
###