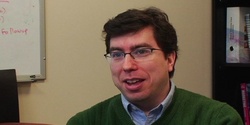 I'm interested in the ability to start treating the human mind as a fungible resource like lumber or computer cycles
San Francisco, CA (PRWEB) March 2, 2009
Renowned Cyber law scholar Jonathan Zittrain talks about how ubiquitous human computing, which he describes as the ability to treat the human mind as a fungible resource, has enabled companies to attack any number of problems by throwing more minds at them the way they might throw servers at a website traffic problem.
A video interview with Zittrain about ubiquitous human computing is featured on IdeasProject, a unique website developed by Nokia. IdeasProject is an online space that provides a new way to interact with thought leaders and their big ideas about the future of connected communications. For more on this idea from Zittrain, visit http://www.ideasproject.com/idea_person.webui?id=2347
"I'm interested in the ability to start treating the human mind as a fungible resource like lumber or computer cycles," said Zittrain. "For example, if you have a firm that has a problem, as the problem scales, you can add more human mind to attack it."
"Ubiquitous computing means network connectivity everywhere, linking devices and systems," said Valerie Buckingham, director of technology marketing, Nokia. "Zittrain's idea explores the theme of what could happen when people are so readily networked. The IdeasProject is about human connectivity, and we're honored by our charter contributors like Zittrain. We're looking forward to his ongoing contribution of big ideas in the coming months ahead."
For the next three months, visitors to IdeasProject.com have the opportunity to submit their own Big Idea. Editors will be regularly highlighting their favorite ideas, and sending a Nokia N95 to the Big Thinker who was selected. The website will also be featuring favorite visitor-contributed Big Ideas along with the ideas of other IdeasProject.com contributors.
About Jonathan Zittrain
Jonathan Zittrain is a Professor of Law at Harvard Law School and is a co-founder of the Berkman Center for Internet & Society and served as its first executive director from 1997-2000. Zittrain's research includes digital property, privacy, and speech, and the role played by private "middlepeople" in Internet architecture. Zittrain has a strong interest in creative, useful, and unobtrusive ways to deploy technology in the classroom. He is the author, most recently, of The Future of the Internet and How to Stop It; and co-editor of the book Access Denied.
About IdeasProject
IdeasProject, a project of Nokia hosted at http://www.ideasproject.com, brings together the most visionary and influential "big thinkers" to contemplate the big ideas that matter most to the future of communications. It is a new kind of conversation platform aimed at uncovering the connections between these thought leaders and their disruptive ideas. Explore the IdeasProject website, subscribe to its RSS feed, join its Twitter feed (IdeasProject), and come back often to learn about great new big ideas as they break.
About Nokia
Nokia is the world leader in mobility, driving the transformation and growth of the converging Internet and communications industries. We make a wide range of mobile devices with services and software that enable people to experience music, navigation, video, television, imaging, games, business mobility and more. Developing and growing our offering of consumer Internet services, as well as our enterprise solutions and software, is a key area of focus. We also provide equipment, solutions and services for communications networks through Nokia Siemens Networks.
###