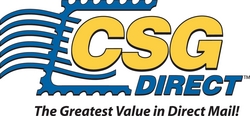 Now that our newest system has proven itself operationally, I feel we truly have proven ourselves to be the greatest value in direct mail
Reno, NV (PRWEB) March 5, 2009
The new US mail tracking system from CSG Direct, Inc. has revolutionized the mailing services industry for database marketing companies. To date, more than 15 million pieces of Direct Mail Advertising have been successfully monitored in real time as they moved through the U.S. Postal Service.
Just as one would follow a package, the new cutting edge tracking system allows database marketing companies to track individual direct mail advertising across the country. CSG Direct's new proprietary system combined with the USPS's new Intelligent Mail Barcodes mean businesses can finally monitor the progress of mail campaigns via personal customer ID or account numbers.
According to Michael Hemphill, President of CSG Direct, the most popular features are the interactive reports, generated as each piece crosses the country.
"This has been the dream in direct mail for decades and it's finally a reality," he says. "Mail can now be tracked just like more expensive alternatives like UPS and FedEX."
Currently, the new technology provides database marketing companies the ability to strategically reduce postage, find lost mail, and help customers who may experience problems with the nation's mail stream. CSG Direct has already begun using these tools to track mail responses and customer interactions as well as build further applications.
"Now that our newest system has proven itself operationally, I feel we truly have proven ourselves to be the greatest value in direct mail," Hemphill says.
CSG Direct, Inc. is a mailing services company founded by mailroom and database guru Michael Hemphill in 1997 after working in, servicing, and setting up mailrooms all over the West Coast. CSG Direct processes direct mail for customers all over the US including casinos, banks, retail, non-profits, and private businesses of all kind.
For more information on how database marketing companies are using CSG Direct's new tracking technology to redefine the mailing services industry, visit http://www.TrackDirectMail.com
Media contact:
Michael Hemphill, CSG Direct, Inc
800-881-2150
###