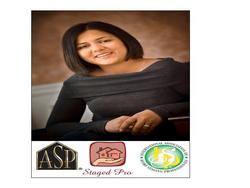 Homes are not being sold very quickly and it is not easy to deal with the anxiety created by having an unsold home sit on the market indefinitely.
(PRWEB) March 5, 2009
Charlotte, N.C. -- Staged Pro (http://www.stagedpro.com)] is a fresh, creative home staging service launched by young, energetic Accredited Staging Professional Ruchika Pawa,. While the inventory of unsold properties on the market continues to pile up, home staging is a proven way to beautify properties and display homes in the best light, making them appealing to potential buyers and dramatically reducing the time they spend on the market.
Growing up in and around a real estate family, Staged Pro's CEO Ruchika Pawa intimately understands the ordeal facing every homeowner in this economic environment.
"There are more 'For Sale' signs than 'sold' signs in my neighborhood, some of them have been on the market for over six months now," she says. "Homes are not being sold very quickly and it is not easy to deal with the anxiety created by having an unsold home sit on the market indefinitely." Drawing on the knowledge and experience gleaned from her real estate experience and her fashion background, she launches Staged Pro http://www.stagedpro.com -- a fresh new approach to home staging.
An average staged home spends 80 percent less time on market than a non-staged home. "Staging your home results in a transformation, highlighting attractive features that will appeal to a broader audience," Pawa said. "In the current buyers market, demand is tilted towards well-maintained 'move in' homes. Busy professionals want to move in and get on with their lives. All home buyers appreciate "no surprises later on" real estate transactions."
Pawa got her ASP accreditation working with Barb Schwarz, the innovator who developed home staging. She understands that while many properties are very similar, creative and affordable tools differentiate properties and make them appealing.
"It's not about just declutering or rearranging -- the idea is to present your property in such a way that prospective buyers looking can envision themselves and their belongings in perfect harmony with the new space," says Pawa.
Staging investments are a fraction of what the first price reduction would be, and can yield up to 300 percent in return. It is about creatively spending less money on showing the potential of your home at its best. Staged Pro's objective is to tell a story through a house. After completion they will take some pictures with unique selling characteristics that will make the home appeal to a broader audience; Since 80 percent of home buyers will look at house pictures online before stepping a foot into the house, beautiful photos depicting a house in a positive light are a good investment. The pictures can be used by real estate agents to be posted on MLS or other sites for sale by owner properties (FSBO).
About Staged Pro
CEO Ruchika Pawa, has started Staged Pro to synergize her real estate background with her fashion experience. Staged Pro offers free consultation by Ruchika herself in Charlotte, Raleigh, Durham, in North Carolina and Naples or Miami in Florida. Services include general consultations, customized staging, vacant home staging and creative redesigning services.
For more information
Ruchika Pawa
Call (704) 906 0555
http://www.stagedpro.com
###