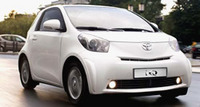 The days of the huge gas-guzzlers seems an age away; premium green cars are the new kids on the block, having driven the iQ I think Toyota has pulled a master stroke
Derby, UK (PRWEB) March 4, 2009
With incentives offered to 'go green' and the economic climate starting to be felt in our pockets the general public still doesn't seem ready to move into all-electric cars, despite Gordon Browns suggestion that all cars should be electric within a decade. What appears to put most people off is the limited range, the lack of power, the network of charging points and the expense of recharging. For the super rich an all-electric car with an absurd 500bhp has been launched but with a price tag of over £300k, it's more of a novel super car than a green car.
Nonetheless, the economic situation is a reality and consumers are looking for cars that are cheaper to run without necessarily looking for a budget model. Enter the new Toyota iQ it claims almost 70mpg and with emissions of just under 100g/km, one couldn't get a better deal on your road tax. Usually vehicles labelled in the 'cheaper to run' bracket implies a material cheapness and notion of budget, but this is not what the Toyota iQ is about, its in the A-class Mercedes and Smart car category but ironically its smarter.
The iQ really is a scaled down version of a luxury saloon car, despite its apparent size it is in fact quite roomy. Space has been found by some very clever planning and space-saving innovations like the 3+1 seating arrangement; now tall people can actually be comfortable in a small car without having to side swipe their knees to the 2 o'clock position. The features on the basic models are equally impressive with 15 inch alloy wheels, a miniature air conditioning unit, electrically adjustable and heated side mirrors, a six speaker audio system and as a first, rear airbags to protect the occupants in the event of a rear collision.
Toyota really have demonstrated their prowess at reading the market, the launch of the iQ at this point in time is sheer brilliance. According to test driver Steve Spelman, "The days of the huge gas-guzzlers seems an age away; premium green cars are the new kids on the block, having driven the iQ I think Toyota has pulled a master stroke".
New and used car reviews by Carbag for Pentagon, a fully franchised dealer network located throughout the Midlands and Yorkshire. For more information call 01226 720442 or visit the Pentagon Toyota website.
###