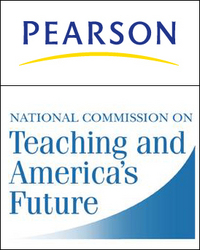 We are excited about the opportunity to work closely with NCTAF on this innovative technology initiative, designed to turn schools into 'learning organizations' instead of 'teaching organizations' and supporting teaching quality initiatives at this crucial time for American schools
Washington, DC and Boston, MA (PRWEB) March 2, 2009
The National Commission on Teaching and America's Future (NCTAF), a nonpartisan, nonprofit, advocacy group dedicated to improving teaching quality, and leading education company Pearson announced today their exclusive partnership to launch a new online learning community designed to support teacher candidates and novice teachers with a broad network of mentors and experienced talent, and to connect colleges of education with their K-12 district partners.
This important partnership is designed to build on NCTAF's Teachers Learning in Networked Communities (TLINC) program through which the schools of education at the University of Memphis, the University of Colorado Denver and the University of Washington implemented a pilot version of an online learning community. Now, Pearson and NCTAF will expand the scope and capacity of this program by researching with the initial partner sites what's worked and what could be improved, adding additional partner institutions, and building together a new, research-driven online community to provide a broad range of educator solutions, both for schools of education and k-12 districts nationwide.
Initial research indicates that online communities of support can help move novice teachers more quickly into truly effective teachers, and provide the type of resources, recognition, support and advancement opportunities that are shown to improve teacher retention overall.
Across the country, there is a steady supply of new teachers being prepared for the classroom, both in traditional and alternative certification programs. On the other hand, steep teacher drop out rates are negatively impacting student learning and increasing administrative costs. With 16 percent of teachers leaving the profession after their first year and nearly 50 percent departing within five years, the goal of the partnership is to improve teacher retention, increase teacher support and enhance student achievement.
"In every profession today, teamwork, collaboration and communication are the keys to success," said NCTAF President Tom Carroll. "It's important that new teachers have opportunities to have access to their professors, mentors and peers for the support they need when they need it. Online communities like TLINC make this happen, and build this 'habit of community' in a way we have found to be extremely powerful for continuous teacher learning," Carroll said.
"We are excited about the opportunity to work closely with NCTAF on this innovative technology initiative, designed to turn schools into 'learning organizations' instead of 'teaching organizations' and supporting teaching quality initiatives at this crucial time for American schools," said Susan Badger, CEO of Pearson's teacher education and development group.
TLINC's current online learning communities provide coaching and mentoring support for novice teachers, opportunities for facilitated reflection and peer collaboration, as well as instant access to faculty, peers and colleagues. With a focus on improved retention and accelerated proficiency, the expanded project will enhance the resources available to teachers and help new educators avoid feelings of isolation that can lead to attrition.
"TLINC provides a wider professional community and an opportunity to explore specific issues of interest with others who share the same concerns. I can really see its value for teachers who are somehow isolated from a broad professional community," said one TLINC user.
Developed with a one-year planning grant from the AT&T Foundation and two years of pilot funding from the Microsoft Partners in Learning MidTier Project, TLINC was recently awarded a grant award from the Fund for Improvement of Postsecondary Education to support the project's continued growth and implementation for the next three years.
For more information about the partnership, visit http://www.nctaf.org/resources/demonstration_projects/t-linc/index.htm or contact Pearson's Emily Knight at 617-671-3631 or Amanda Stanley at 202-464-1930.
About NCTAF - The National Commission on Teaching and America's Future (NCTAF) is a non-profit, non-partisan advocacy organization based in Washington, D.C. NCTAF is dedicated to providing every child with competent, caring, qualified teaching in schools organized for success. With a network of 25 partner states and links to professional educational organizations across the nation, NCTAF provides leadership on innovation and improvement in teaching and learning in America's schools. For more information, visit NCTAF's website: http://www.nctaf.org.
About Pearson - Pearson (NYSE:PSO), the global leader in education and education technology, reaches and engages today's digital natives with effective and personalized learning, as well as dedicated professional development for their teachers. This commitment is demonstrated in the company's investment in innovative print and digital education materials for preK through college, student information systems and learning management systems, teacher professional development, career certification programs, and testing and assessment products that set the standard for the industry. The company's respected brands include Scott Foresman, Prentice Hall, Addison Wesley, Benjamin Cummings, PEMSolutions, Stanford 10, SuccessNet, MyLabs, PowerSchool, SuccessMaker, and many others. Pearson's comprehensive offerings help inform targeted instruction and intervention so that success is within reach of every student at every level of education. Pearson's commitment to education for all is supported by the global philanthropic initiatives of the Pearson Foundation. Pearson's other primary businesses include the Financial Times Group and the Penguin Group. For more information, go to http://www.pearson.com.
For more information, press only:
Stacy Skelly, Pearson, 202-431-5302, stacy.skelly@pearson.com
Amanda Stanley, National Commission on Teaching and America's Future, 202-464-1930.
###