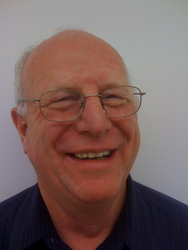 It really made me reevaluate my life
Chestnut Ridge, NY (Vocus) March 2, 2009
More than 12 years after a horrible accident left him unable to continue in his life's passion, B&B Pool and Spa Center employee Michael J. Hartnett has earned reinstatement as a national Certified Landscape Architect (CLA).
In 1996 Hartnett was running a successful business as a CLA, designing and planning landscaping for pools and spas in the northeast, when a violent, 120-pound German Shepard attacked him. A nasty bite to his right forearm -- his drawing arm -- left severe nerve and tendon damage that required intense surgery. Two years later he had a delicate operation to repair his injured arm. Doctors warned it could take him years to recover full use of his right hand.
After the attack and surgery, Hartnett lost all feeling in his injured hand, and for years he was unable to sketch and create detailed blueprints -- a crucial element in the planning process and main component of his job. Despite his efforts to maintain his business, he was forced to surrender his career and turned to building water features in order to make a living. In 2003, feeling in his hand finally returned, and he began the vigorous recertification process.
The New Jersey State Board of Architects reinstated Hartnett as a CLA in 2008, five years after he began the process to regain his certification. To become a CLA, applicants must: 1) hold a bachelor's or higher degree in an accredited landscape architecture curriculum; 2) have engaged in practical landscape architectural work for four years; 3) have successfully completed an examination on New Jersey landscape architecture issues; and 4) have successfully completed the Landscape Architect Registration Examination.
Before joining the B&B team full-time in January of 2008, Hartnett had been working as an independent contractor for B&B since 1978. As a CLA, he helps plan and design the shape of pools and spas in regard to the manner in which they blend with their landscapes, including the way various elements transition into one another.
"Despite the challenges and disappointments I faced on the long road to recovery," Hartnett said he believes it was all worth it. "It really made me reevaluate my life," he says of his ordeal. "Losing function in my hand forced me to use my brain, which led to me understanding design more. I'm convinced that I'm an even better designer now than I was before."
In addition to his CLA designation, Hartnett is also a Rutgers University Certified Advanced Wetland Delineator, in which he works to protect wetlands by designing ways to purify the water that goes into them. His work has also been featured in well-known publications such as Better Homes & Gardens, the New York Times, Home Magazine, and New Jersey Monthly.
About B&B Pool and Spa Center
A family-owned business serving residential and commercial clients since 1972, B&B Pool and Spa Center has won numerous national and international awards for design excellence, customer satisfaction, and professionalism. The Bagin brothers--Bruce, Craig and Drew--personally oversee each project from concept through completion, ensuring creativity, quality construction and value. Committed to environmentally friendly sustainable solutions, B&B Pool and Spa Center is a community sponsor of the Hudson River Navigator and the Hudson-Fulton-Champlain Quadricentennial. The company is located at 787 Chestnut Ridge Road, Chestnut Ridge, NY 10977. For information, call 845-356-0837 or log onto http://www.bbpoolandspa.com.
Media Contact:
Megan McConville
845-265-7000
FAX 845-231-4061
###