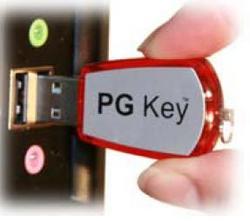 Clearly, the main responsibility is on parents.
Tucson, AZ (PRWEB) March 3, 2009
Most of the dangers to kids online can't be prevented with web filters and site blocking software. That's the conclusion of the recent report from the Internet Safety Technical Task Force that included representatives from MySpace, Google Inc., AOL and Facebook Inc.
Task force member, Attorney General Roy Cooper of North Carolina said in his recent interview "Clearly, the main responsibility is on parents."
This conclusion mirrors what parenting experts and law enforcement officials have been advising - Parents must be vigilant and involved in their children's daily internet use.
Advice of experts and parents used to develop PG Key
The developers of PGKey assembled law enforcement professionals, parenting experts, concerned parents, and even kids themselves to gain a clearer understanding of the technical and parenting challenges faced by today's high-tech families.
Some of the greatest concerns from parents were the dangers of cyber-bullying, online messaging with strangers, and the problems that arise when inappropriate information and pictures are posted on kids social networking sites. These problems in particular are difficult or impossible to prevent with existing filtering products.
While the parents interviewed agreed with the strategy of monitoring as the most effective way to prevent these dangers, they repeatedly expressed the need for a simpler and more complete method to create the safe environment being advised. PG key allows parents to simulate the environment that would otherwise require the impracticality of constant supervision.
PG Key helps fight tough internet dangers
PG Key plugs into any USB port on the computer in use. Similar to a car key, the key must be inserted in order for the child to "drive" onto the internet. When PG Key is in the computer, a combination of content filters, activity recording and alert notifications are enabled for the internet session. These features allow parents to enforce the rules they set for their kids' safe computer use.
PG Key available now
PG Key is available from the manufactures website http://www.pgkey.com. Requirements and product details can be found on the website. A version for Mac and a similar product for mobile devices are currently in development and due for release soon.
###