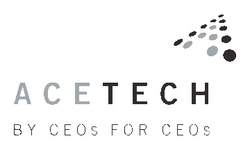 ACETECH has been very successful in leveraging world class expertise and the experience of seasoned CEOs to help BC IP-based companies grow their revenue
Vancouver, BC (Vocus) March 3, 2009 –-
The BC Technology Industry Association (BCTIA) and ACETECH are announcing the creation of a joint education program for accelerated growth of British Columbia-based technology executives. Starting this fall, the program will build on successful offerings currently delivered by both ACETECH and BCTIA. The goal is to coordinate a professional development curriculum for the whole executive team that reaches into primary business functions such sales, marketing, finance, product management, and project management.
As the provincial technology industry association, the BCTIA represents over 2100 technology companies across the Province from start-ups to established anchors while ACETECH brings together CEOs of technology companies for peer support, mentoring and ongoing professional development. ACETECH has been delivering educational programs for CEOs, including its signature Whistler Symposium, for over 17 years. For the past three years, ACETECH has expanded its efforts to assist the CEO's of emerging companies through its 'Growth Strategy Program', with technology companies experiencing an average revenue increase of 162% in their first year of participation.
"ACETECH has been very successful in leveraging world class expertise and the experience of seasoned CEOs to help BC IP-based companies grow their revenue," said Shannon Byrne Susko, Chair of ACETECH and CEO of Subserveo. "The new joint program with the BCTIA will use a similar approach to train other senior technology professionals," Susko added.
A recent study of 948 BC technology companies by the BCTIA found that most (75%) companies report having less than 20 employees, and focus their business primarily on local and domestic markets. However, the study also found that many have a strong opportunity to grow by expanding into new geographical markets.
"We're renowned for the high quality of the technology and engineering that we produce," stated Pascal Spothelfer, President of the BCTIA, "however, many of our companies lack the size and management know-how required to scale their businesses and create wealth for our industry and our Province," Spothelfer added.
"We want to avoid creating branch plant R & D companies and develop stable and sustainable companies that build headquarters here in BC," added Spothelfer. "Our joint program is about developing robust companies that can sell and service products around the world."
BCTIA and ACETECH consider this partnership a long-term commitment to the growth of BC's technology companies with a vision to offer the leading industry-driven education program in North America.
About BCTIA
BC Technology Industry Association (BCTIA) is a not-for-profit, member-funded organization that represents start-ups to established technology companies, including those that service the industry, across the province. Incorporated in 1993, after the amalgamation of the Electronic Manufacturers' Association of British Columbia (EMABC) and the Information Technology Association of Canada, BC Chapter (ITAC-BC), the BCTIA has served the province's technology industry for over a decade and today is recognized locally, provincially and nationally as the voice of BC's technology industry. BCTIA advocates issues that enable the continued growth, prosperity and sustainability of our industry and economy. The association delivers opportunities for members to learn, get connected and grow their businesses in BC. http://www.bctia.org
About ACETECH
Driven by the personal commitment and passion of CEOs who have built successful companies and learned from their successes and mistakes, ACETECH is a non-profit organization that provides a forum exclusive to technology CEOs to identify, discuss and address important issues, and find solutions to problems they are facing now.
ACETECH is the best choice for technology CEOs who want to improve their leadership and grow their businesses because it leverages the experience of an exclusive peer community and industry experts to deliver programs focused on the needs of CEOs. Now in its 18th year, ACETECH has expanded to provide learning and growth opportunities for CEOs all year long. http://www.acetech.org
###