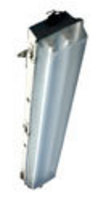 Fluorescent lights are a mainstay in just about every facility in the world
Dallas, TX (PRWEB) March 3, 2009
Larson Electronics' Magnalight.com announced a new addition to its growing line of explosion proof and hazardous location fluorescent lighting products. The newest surface mount light, the HALP-48-2L was released last week and offers UL 595 outdoor marine certifications in addition to the UL 844 Class 1 Division II ratings for Groups A, B, C and D. The hazardous location light is the first significant departure from the use of aluminum castings and aluminum extrusions common in the heavier duty, Class 1 Division 1 fluorescent lights, like the EPL-48-2L and the HAL-48-2L.
"Fluorescent lights are a mainstay in just about every facility in the world," stated Rob Bresnahan, President of Magnalight.com. "Now, we cover most every aspect of hazardous location area lighting, starting with our Class 1 Division 1 EPL-48-2L explosion proof light, which is ideal for petrochemical, manufacturing and paint spray booth applications. That explosion proof fluorescent light is made with an aluminum casting, which makes it very heavy duty and meets the specifications necessary to reach the highest UL safety ratings. For areas that experience the presence of flammable vapors occasionally, or are adjacent to Class 1 Division 1 rated areas, we offer the lighter weight, HAL-48-2L hazardous location fluorescent light. This hazardous location area rated fixture's housing is made with an aluminum extrusion, making it lighter weight for easier installation. However, both fixtures are made from aluminum, which can be degraded by corrosive substances, such as saltwater. As such, the HALP-48-2L fills that gap in our line. Our newest Class 1 Division 2 rated light is made from a glass fiber reinforced polyester housing, an acrylic diffuser cover and stainless steel fasteners. Thus, it is ideal for shipyards, marine loading docks, vessels and other wet location areas that require corrosion resistant lighting that is also UL rated for hazardous location use. The HALP-48-2L also meets US Coast Guard specifications."
Larson Electronics LLC continues to expand its line of explosion proof fluorescent lights, ranging from Class 1 Division 1 rated handheld drop lights to surface mount explosion proof paint spray booth lights. You can learn more about Larson Electronics LLC at magnalight.com or by calling 1-800-369-6671.
###