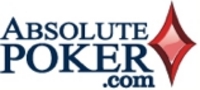 With free tuition money, notebook computers and cash on the line, this year's Absolute Poker College Challenge is more rewarding than ever.
Miami, FL (PRWEB) March 3, 2009
In a time when more Americans are finding a college education to be far too out of reach, one online poker site is making life a little bit easier. Absolute Poker today announced the return of the Absolute Poker College Challenge, an online Texas Hold'em competition featuring three major contests with a range of prizes, including tuition, swag and gadgets.
"Due to overwhelming demand from students and poke r fans across the world, we're thrilled to bring back our wildly popular college campus competition," stated an Absolute Poker spokesperson. "With free tuition money, notebook computers and cash on the line, this year's Absolute Poker College Challenge is more rewarding than ever."
In between cramming for finals and blowing off steam when the pressure cooker of Campus life gets too intense, Absolute Poker has put together a 12-week competition of free online poker qualifiers that's sure to fit nicely in your schedule - plus there's three ways to play and win.
At stake in the May 11th Main Event are $10,000 for a college education, cash prizes, and a MacBook notebook computer amongst the gizmos on offer. To make it easier for online poker players to make their way to the Main Event at a time that's convenient for them, daily freerolls and daily $2 rebuy tournaments have also been added to Absolute Poker's tournament schedule.
In addition to the Main Event, the Absolute Poker College Challenge promotion features two leaderboard competitions. College students who register for the 12-week online poker tournament series will automatically compete for the top spot on a Player Leaderboard. Finish as King of the cards in the Player of the Year Leaderboard to walk away with the bragging rights amongst your frat buddies, plus pocket a handy $3500 and other cool prizes.
A secondary School of the Year Leaderboard that echoes the spirit of campus camaraderie will award the players from the top Colleges with freeroll entries and swag.
Online poker players who enter the Absolute Poker College Challenge will share in a prize pool that includes cash for tuition, top of the line computers, an iPod touch, thousands of dollars in Tournament Dollars, and Absolute Poker branded t-shirts. Complete details on the Absolute Poker College Challenge can be found at: http://www.absolutepoker.com/promotions/college-challenge/?page=home
About Absolute Poker
Absolute Poker is part of the CEREUS poker network and is dedicated to providing players from around the world with an online poker game experience that is second to none. Players worldwide can access Absolute Poker online 24 hours a day, 7 days a week from any PC or Mac and experience the best multi-player game online poker has to offer. Absolute Poker is committed to remaining the most trusted and best online poker experience, created by poker players for poker players.
###