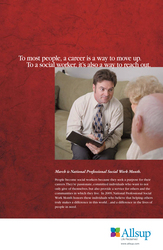 50 Ways to Use Your Social Work Degree.
(Vocus) March 4, 2009
Careers in social work provide many opportunities for both personal satisfaction and professional growth, according to the National Association of Social Workers, which is celebrating National Social Work Month in March. Organizations, including Allsup, a national Social Security Disability Insurance representation company, are helping to highlight the significant value that social workers provide to families and communities.
Social workers can be found working in hospitals, medical clinics, schools, government agencies and companies. For most social workers, their daily experiences are focused on providing one-on-one support (96 percent) to individuals and families. They are a vital part of society's safety net and help people at crucial times in their lives.
Social work is one of the fastest-growing career fields in the country, according to the U.S. Bureau of Labor Statistics, which projects an employment increase of 22 percent from 2006 to 2016--reaching nearly 730,000 jobs.
This year's theme -- Social Work: Purpose and Possibility -- highlights the characteristics of individuals who choose social work as a profession. Social workers are purpose-driven, compassionate individuals who work across a range of areas to help those most vulnerable in society. For example, people with disabilities benefit from the efforts of social workers in rehabilitation clinics, at mental health facilities and through other community roles.
The national association is launching a new online tool highlighting "50 Ways to Use Your Social Work Degree." More information can be found at http://50ways.helpstartshere.org.
Individuals and families also can find more answers to their questions through HelpStartsHere.org, a Web site provided by the National Association of Social Workers. Locate information and articles on a variety of topics, including kids and families, and seniors and aging. The site also offers the "National Social Worker Finder" to help people find a licensed social worker where they live.
Allsup salutes the National Association of Social Workers and other organizations across the country in recognizing the role of social workers, who create real and lasting change for communities.
Free posters highlighting National Social Work Month, March 2009, are available through Allsup to hospitals, clinics and other community groups by calling Karen Hercules-Doerr at (800) 854-1418, ext. 5770.
Contact:
National Association of Social Workers
Amber Moore
(202) 336-8277
http://50ways.helpstartshere.org
Allsup
Karen Hercules-Doerr
(800) 854-1418, ext. 5770
http://www.allsupcares.com
# # #