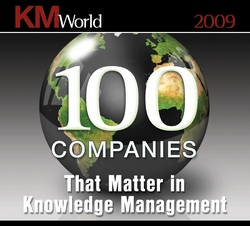 Each company embodies as part of its culture agile and limber execution of its mission, embracing a spirit of both adaptability and innovation
Reston, VA (PRWEB) March 3, 2009
Rivet Logic Corporation, a leading consulting and systems integration firm focused on open source enterprise content management solutions, announced today that it has been named in KMWorld's list of "100 Companies That Matter in Knowledge Management". This prestigious list is compiled by knowledge management practitioners, theorists, analysts, vendors and their customers and colleagues.
"Each company embodies as part of its culture agile and limber execution of its mission, embracing a spirit of both adaptability and innovation," said Hugh McKellar, editor in chief of KMWorld.
Through a full suite of innovative solutions for content management, collaboration, and community, Rivet Logic helps organizations fully leverage the power of industry-leading, commercial open source software. "Rivet Logic is honored to be recognized as one of the industry leaders in driving successful adoption of open source software in today's Enterprise 2.0 world," said Mike Vertal, president and CEO of Rivet Logic.
Open source enterprise content management and portal platforms have matured over the past several years and now have been successfully deployed across thousands of major enterprises. Importantly, successful implementations may be found across a variety of content-centric solutions - ranging from Web content management, document management, collaboration, and enterprise social networking - and throughout a wide range of vertical markets. Rivet Logic's clients include Fortune 500 companies that span media and publishing, pharmaceutical, financial services, government, education, health care, and consumer markets.
The complete list is featured in KMWorld's March 2009 issue and is also available online at http://www.kmworld.com.
About Rivet Logic Corporation
Rivet Logic is an award-winning consulting and systems integration firm that helps organizations better engage with customers, improve collaboration, streamline business operations, and increase revenue. Through a full suite of solutions for content management, collaboration and social communities, Rivet Logic enables organizations to fully leverage the power of industry-leading open source software. With deep expertise in the Alfresco Content Management platform, Liferay Portal, JBoss Enterprise Middleware and Drupal social publishing system, Rivet Logic crafts content-rich solutions that power next-generation Web properties, Enterprise 2.0 applications and collaborative communities. For more information, visit http://rivetlogic.com
About KMWorld
The leading information provider serving the Knowledge, Document and Content Management systems market, KMWorld informs more than 50,000 subscribers about the components and processes - and subsequent success stories - that together offer solutions for improving business performance. KMWorld is a publishing unit of Information Today, Inc. For more information, please visit http://www.kmworld.com
###