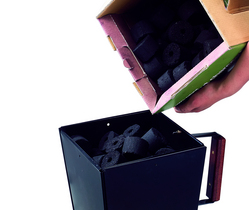 Los Angeles, CA (PRWEB) March 4, 2009
100% all natural coconut charcoal. Now, that's hot. While current consumer demand for eco-friendly products continues to climb, the introduction of 'green' products to grilling enthusiast has failed to keep pace. Until now. aFire Inc, a company focused on alternative fuel and eco-friendly sources, has announced the launch of the aFire Coconut Charcoal line.
What is Coconut Charcoal?
Coconut charcoal is made from 100% natural coconut shells carbonized and compressed into briquettes. Unlike regular and hardwood briquettes it burns hotter, longer and cleaner than any conventional charcoal on the market. It's made from 100% recycled coconut shells with no additives. Coconut Charcoal contains no additives like sawdust, limestone or petroleum.
Does it taste like coconut?
Coconut charcoal does not have added coconut flavor to it. During the carbonization stage, the coconut oil burns away, leaving a mild, smoky charcoal flavor.
How does it work?
The hard shell fiber of a coconut is what keeps the briquette from burning quickly, while providing consistent heat distribution. Coconut Charcoal creates less sparks and flare-ups than lump wood charcoal and decreases carcinogens in food. Coconut Charcoal is more efficient and longer burning…and is also reusable! Natural, exotic smoky charcoal flavor is emitted when grilling, delivers a more authentic grill flavor while respecting the environment with sustainable resources.
Although Coconut Charcoal is considered a contemporary fuel to the grilling and smoking industry, many professional competition BBQ teams across the nation have used it and it is gaining popularity rapidly in the BBQ arena.
Coconut Charcoal comes in original and Rapidlight. aFire's Rapidlight Natural Charcoal is a self-starting charcoal pre-soaked in all-natural oil. No petroleum products are used in this product to ensure a bold, natural flavor, without the taste of petroleum. An 18-pound bag of aFire Coconut Charcoal typically retails for $29.99.
About aFire Inc.
aFire Inc is an environmentally conscious firm that creates innovative products for the Gourmet Chef and Outdoor Grilling Enthusiast. aFire aims to continually create and innovate to deliver safe, environmentally-friendly and cleaner alternatives to traditional fuels. For more information about aFire Coconut Charcoal and other aFire products, visit http://www.afireinc.com.
###