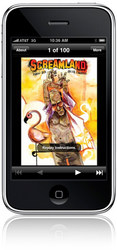 Screamland is a gorgeously-drawn, expertly-dialogued work of razor sharp satire and all around hilarity.
Kansas City, MO (PRWEB) March 3, 2009
Washed-up Hollywood monsters get one more chance to seize past silver screen glory in the critically-acclaimed horror series Screamland, the newest addition to the Apple App Store from UCLICK®, the #1 distributor of comics and manga on mobile. The five-issue series won rave reviews for its satirical look at the seedier side of Tinseltown through the eyes of Frankenstein's monster, Count Dracula, and other horror icons, and is available now for download in five comic apps priced at $.99 (US) cents each.
Screamland, written by Harold Sipe and illustrated by Hector Casanova (The Lurkers), has drawn high praise from fans and critics as well as from many well-known industry pros. Uncanny X-Men and Casanova writer Matt Fraction called Screamland "Beautiful, brilliant, brutally hilarious and hilariously brutal. I wish MY first comic was this good." Scalped writer Jason Aaron said, "Screamland is a gorgeously-drawn, expertly-dialogued work of razor sharp satire and all around hilarity."
The series also received honorable mention in Publishers Weekly's 2008 Critics' Round-up and was named Best Horror Series of 2008 by Fangoria Magazine and Best Satire of 2008 by Wizard Magazine.
"Screamland is a terrifically executed take on a very clever premise," said Uclick CEO Douglas Edwards. "Sipe's deft storytelling gives soul to these familiar characters. They've been burned by their celebrity, and their feelings of resentment, bitterness and failure ring true. Beyond the scripting, Casanova's attention to detail in his mixed media approach to the art is obvious in every panel. This is a very entertaining critique of the entertainment business, and it's beautiful to look at on the high resolution display of the iPhone and iPod touch."
Uclick has released over 100 comic book, graphic novel, manga and webcomic applications in the Apple App Store. Screamland joins a group of critically-acclaimed, independent hit comic books that includes Jeff Smith's Bone, GODLAND from Joe Casey and Tom Scioli, Umbra from Murphy and Mike Hawthorne, and Mark Sable and Paul Azaceta's Grounded. Uclick has also released apps featuring the Teenage Mutant Ninja Turtles series Tales of the TMNT and TMNT: Soul's Winter, a collection of Turtles stories by Sandman artist Michael Zulli.
Most of the iPhone Uclick apps are currently available at $.99 (US) cents each and feature tap-and-swipe, panel-by-panel controls. The Apple devices' large Multi-Touch displays enable a clear, high-resolution presentation. The zoom feature allows an even closer look at any panel.
To get Screamland and other favorite comic books, graphic novels and manga for the iPhone and iPod touch go to the new Uclick Web App by typing Uclick.com into the Safari browser or visit the App Store on the iPhone or on iTunes.
About UCLICK:
UCLICK® is the leading digital entertainment provider of humor, comic strips, manga, graphic novels, editorial cartoons, and other content for desktop, web and mobile phones. Uclick is also the leading creator and distributor of crosswords, and other word and number puzzles. Partners featuring Uclick content include the leading consumer portals Yahoo!, MSNBC.com, New York Times, Slate.com, washingtonpost.com, CNN, USA Today, and AOL. Uclick features include the top brand franchises Garfield, Doonesbury, Calvin and Hobbes, Paul Frank, Teenage Mutant Ninja Turtles, TOKYOPOP, USA Today, Pat Sajak, Wyland, and many more. Uclick creative content and services are available through the GoComics.com website, U.S. mobile phone operators, the iTunes App Store, and other distributors worldwide. UCLICK, LLC is a division of Andrews McMeel Universal, the leading newspaper syndicate and publisher of humor books and calendars in North America.
For more information on Uclick, visit http://www.uclick.com.
###