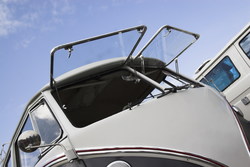 Initially we planned to run the promotion till the end of 2008
(Vocus) March 3, 2009
VW camper van owners looking to save money on their insurance now have more time to enter the "Every 100th Policy Refunded" promotion on the Just Kampers website (http://www.justkampers.co.uk) and get their entire first year premium back. The promotion, set up by Just Kampers Insurance Services, has been extended to October 2009 to brighten up the credit crunch for several lucky van owners.
"Initially we planned to run the promotion till the end of 2008," says Andy Morton of JKIS. "But it's created so much interest that we decided to keep it going into 2009 to give more people the chance to win their money back."
Every one hundredth person taking out a policy with Just Kampers Insurance Services gets a full refund of their first premium. The refund is paid in Just Kampers vouchers which can be exchanged for anything on the Just Kampers site or in the catalogue, from engine parts and accessories for specific VW vans, to leisure items as varied as solar panels, sleeping bags or fold away barbeques.
Alongside all the regular products on the Just Kampers site there are special featured sale items with savings of up to 50% – so the voucher winners can stretch their budget even more. The vouchers can even be put towards insurance on another VW van.
To get a no obligation quote for VW Camper and Transporter insurance call JKIS on 08451 256 257 or visit http://www.justkampersinsurance.com
Just Kamper Insurance Services is operated in association with specialist insurance intermediary Herts Insurance Consultants (HIC).
Just Kampers every hundreth policy extended.doc – Mar-09
Press Enquiries:
TONI TURNER OR ALISON HAYNES AT THE PUBLICITY WORKS: (01263) 761000
ANDY MORTON OF JUST KAMPER INSURANCE SERVICES ON: 08451 256 257
###