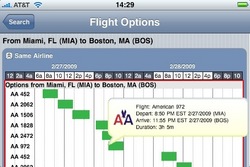 Stratham, NH (PRWEB) March 4, 2009
The FlightOptions iPhone application is now available in the Apple App Store. 1 out of 4 flights get delayed or cancelled - the FlightOptions application allows a traveler to quickly view flight scheduling alternatives when trouble arises. The application is also useful as a planning tool before or during a trip to view the various flight options between any two airports in the world.
The FlightOptions application allows an iPhone traveler to view the best flight options between 2 airports with a unique, easy to use graphical display. The traveler can tap a flight to get details such as flight number, departure/arrival times, airport codes, flight duration, and number of stops. Both direct and connecting flights can be viewed, including the ability to see what connecting flights to the final airport destination are viable based on the selected originating flight.
FlightOptions for the iPhone is available as a $0.99 download from Apple's App Store on both iPhone and iPod Touch devices.
About TripChill:
Unlike standard travel monitoring services from airlines and online travel agencies, TripChill is a mobile travel assistant that delivers a personalized experience with targeted information and the ability to quickly take action to resolve problems. TripChill begins monitoring travel itineraries before a trip even starts. The service detects changes in flight and hotel information and alerts the traveler. It provides a situationally-aware mobile interface that tells the traveler the current status of their next flight and exposes mobile access to itinerary details such as phone numbers, confirmation numbers, driving directions, and weather. TripChill delivers smart notifications to the traveler that provide targeted, actionable information when issues arise, such as missed connection warnings, inbound aircraft status, and alternate flight suggestions. The service has advanced logic that is constantly validating travel itineraries and prompting the user to repair conflicts, such as hotel reservations in two locations for the same night due to a traveler being stranded. TripChill works on all mobile devices that have a web browser, and can also communicate on standard cell phones using text messaging. Travelers can book hotel and car reservations over their mobile device at the last minute when traveling. TripChill keeps the traveler's friends and colleagues informed about their travel status as they progress through their itinerary.
###