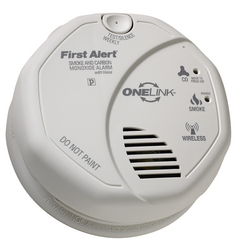 Warning…, evacuate…, smoke in basement.
Aurora, Ill. (PRWEB) March 4, 2009
Like a string tied to a finger, the switch to Daylight Saving Time has become more than a reminder to adjust the time on one's clocks. Over the years, "Time Change Sunday" has become practically synonymous with changing smoke alarm batteries thanks to years of educational outreach on the part of fire safety organizations and manufacturers. The effort appears to be working. According to a recent study by First Alert, one of the most recognized safety brands in America, more than 79 percent of Americans changed the batteries in their smoke alarms last year.
But changing batteries each year won't be enough to protect your home and family if a smoke alarm isn't working properly. It's just as important - if not more so - to regularly assess the age and condition of the alarms throughout your home.
"Smoke alarms should be tested every month and immediately replaced if they fail or if they are 10 years old or older," said Deborah Hanson, director of external affairs for First Alert. "If you don't know how old an alarm is, the safest bet is to replace it."
For those in need of new alarms, a wide variety of innovative products are available with an assortment of features to meet different needs. Following are just a few of the safety and convenience options incorporated into today's array of high-tech smoke alarms:

Long-life 10-year lithium batteries - eliminates the need for battery replacement for the 10-year life of the alarm
Bright escape lights - lights the way to safety in case of an emergency
Strobe technology - provides visual alerts for the hearing-impaired
Remote-controlled mute - Infrared sensor allows for easy, hands-free silencing and testing of alarm function with most conventional remote controls
Photoelectric smoke sensing - reduces "nuisance" alarms like those caused by cooking smoke and shower steam
Combination smoke/CO sensing - offers double the protection and double the peace of mind
No matter the features, smoke alarms should be positioned throughout a home - at least one on each level and one in every bedroom or sleeping area. It's also a good idea to position an alarm in the main hallway between bedrooms, as well as in the furnace room. For ultimate protection, First Alert offers an integrated alarm system called ONELINK®, which connects alarms throughout the house using wireless technology. After following a simple one-step programming process, these alarms communicate via radio frequency and alert residents via voice output to the danger and its specific location. For example, if there is a fire in the basement, alarms throughout the house will announce, "Warning…, evacuate…, smoke in basement."
"In an emergency, seconds count," said Hanson. "Integrated alarms communicate with each other and sound together wherever they are located in your home, so you'll receive an earlier warning of potential danger that can increase your chances of getting out safely."
For more information and a complete home safety checklist, please visit http://www.firstalert.com/safety_checklist.php. First Alert® smoke alarms are available at national retailers or for purchase through the First Alert online store at http://www.firstalertstore.com.
The First Alert survey results are based on the responses of 1,000 adults in the United States who answered a telephone survey from Jan. 29 through Feb. 1, 2009. Results are accurate to +/-3 percent points with a 95 percent confidence level and can be generalized to the entire U.S. adult population.
BRK Brands, Inc. (Aurora, IL), is a fully owned subsidiary of Jarden Corporation (Rye, NY) NYSE:JAH, a leading provider of niche consumer products used in and around the home. For 50 years, BRK Brands, Inc. has been the manufacturer of First Alert®-branded home-safety products, the most trusted and recognized safety brands in America. BRK® Brands designs and develops innovative safety solutions including Tundra® Fire Extinguishing Spray, ONELINK® wireless alarms and a comprehensive line of smoke alarms, carbon monoxide alarms, fire extinguishers and escape ladders to protect what matters most. Such products are also marketed under the BRK Electronics® brand, The Professional Standard for the builder and contractor audiences. BRK Brands, Inc. products are found in more than 30 countries worldwide. For more information, visit http://www.firstalert.com, http://www.brkelectronics.com or http://www.jarden.com.
©2008 BRK Brands, Inc., Aurora, IL 60504. All rights reserved.
First Alert® is a registered trademark of The First Alert Trust, Aurora, IL 60504.
BRK Electronics® is a registered trademark of BRK Brands, Inc., Aurora, IL 60504.
NYSE is a registered service mark of NYSE Group, Inc.
###