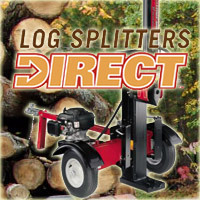 LogSplittersDirect.com is the most convenient way to buy a log splitter
Bolingbrook, IL (PRWEB) March 5, 2009
Today Power Equipment Direct launched LogSplittersDirect.com -- a new online superstore exclusively dedicated to log splitters.
"LogSplittersDirect.com is the most convenient way to buy a log splitter," said Jon Hoch, founder and CEO of Power Equipment Direct.
Instead of battling the crowds and traffic at the local big box stores, customers can now shop online from the comfort of their own home or business. In addition, all wood splitters are shipped directly to the customer for free.
LogSplittersDirect.com will offer a vast selection of manual, electric, gas and pto log splitters from the leading manufacturers, such as Betst.
LogSplittersDirect.com publishes product recommendations and customer reviews to help shoppers pick the perfect logsplitter that fits their needs.
Power Equipment Direct operates nine niche online superstores. In addition to SumpPumpsDirect.com, the Bolingbrook, IL-based company operates AirCompressorsDirect.com, ElectricGeneratorsDirect.com, PressureWashersDirect.com, SnowBlowersDirect.com, MowersDirect.com, WaterPumpsDirect.com, ChainSawsDirect.com and LogSplittersDirect.com
###