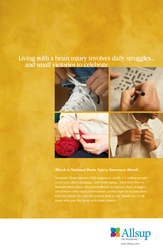 (Vocus) March 5, 2009 -
Nearly 1.4 million people experience traumatic brain injuries each year through falls, traffic accidents, sports and other activities, according to the Brain Injury Association of America (BIAA), which is observing National Brain Injury Awareness Month in March 2009. Organizations, including Allsup, a national Social Security Disability Insurance representation company, are helping to raise awareness about brain injuries and the importance of getting treatment and resources for patients and their families.
Injuries to the brain can happen in the blink of an eye, and every 23 seconds one person sustains such an injury. The affects are wide-ranging, affecting people's abilities for thinking, language, emotions, remembering, learning, activities and sensation. In addition, brain injuries can increase risks for chronic diseases such as Alzheimer's disease, Parkinson's disease and other brain disorders. Brain injuries also may cause epilepsy.
Currently, 5.3 million people in the United States have a long-term or lifelong need for help with their activities of daily living as a result of a traumatic brain injury. To support patients and their families, the Brain Injury Association of America provides a network of more than 40 affiliates and numerous support groups nationwide.
The BIAA offers the National Brain Injury Information Center at (800) 444-6443. This helpline is coordinated by brain-injury specialists who can answer questions and direct survivors and their families to support, information and resources. The e-mail address is familyhelpline (at) biausa (dot) org.
The association also provides an online section called, "Living with Brain Injury," that provides more insights on topics such as types of rehabilitation, levels of medical care and medical terms.
Allsup salutes the Brain Injury Association of America and other organizations nationwide who are working to advance awareness, treatment and rehabilitation for people with brain injuries.
Free posters highlighting National Brain Injury Awareness Month (March) are available through Allsup to hospitals, clinics and other community groups by calling Karen Hercules-Doerr at (800) 854-1418, ext. 5770.
To learn more about the Brain Injury Association of America, or one of the state affiliates, contact Wendy Leedy, director of affiliate services, at (703) 761-0750, ext. 622.
Contact:
Brain Injury Association of America
Wendy Leedy
(703) 761-0750, ext. 622
http://www.biausa.org
Allsup
Karen Hercules-Doerr
(800) 854-1418, ext. 5770
http://www.allsupcares.com
# # #