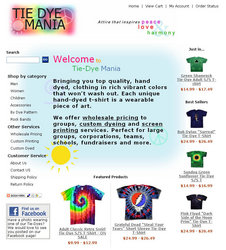 With sales up over 65%, we believe that people are buying clothing that makes them feel good.
Cranford, NJ (Vocus) March 4, 2009
Online specialty retailer TieDyeMania.com experiences 65% sales growth rate for 2008. Although sales for many retailers are down over the past 6 months, sales of Tie Dye apparel have been continually strong. "With sales up over 65%, we believe that people are buying clothing that makes them feel good." says Scott Marino, President of the two year old company. Tie Dye shirts are fun and remind people of happier and more peaceful times.
The merchandise, which is predominantly t-shirts, is tailored to every age of customer. TieDyeMania.com retails items that are contemporary and retro, as well as colorful and edgy. The most popular tie dye t-shirts are the timeless classic rainbow swirl tie dyes. "Tie dye has gone well beyond the classics" states Marino, "The hand tied and dyed peace sign, shamrock, planet earth, breast cancer awareness and patriotic flag designs are all very popular with tie-dye aficionados".
In addition to the tie dyed patterns, the Tie Dye Mania collection includes tie-dye rock-n roll shirts that feature rock stars including the Grateful Dead, Janis Joplin and Pink Floyd to name just a few. "Overall it has been an exciting time for us here at TieDyeMania.com. While we see so many retailers around us that are experiencing slow sales, we are experiencing tremendous growth" says Marino. "As an added benefit, the shirts are hand dyed here in the states and when we add screen printed designs for clubs and companies, that work also employs local labor.".
Panda Apparel LLC was formed in 2007 as an online specialy apparel retailer. In addition to TieDyeMania.com, they operate LittleJammies.com, PandaApparelLLC.com, BettyBoopGear.com, OrganicFiberApparel.com and RecycledFiberApparel.com. Additional specialty and niche websites are planned for the near future.
###