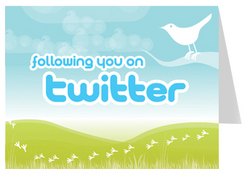 Tampa, FL (PRWEB) March 19, 2009
Enthusem.com announced today that Duct Tape Marketing has selected Enthusem to promote their Small Business Marketing System and Authorized Coach Network. Enthusem lets users send personalized printed greeting cards that seamlessly link to Internet content. Using a simple code, enthusem card recipients can visit a web page and access video, audio and other documents that the sender has uploaded. Enthusem takes care of the printing, mailing and online file hosting so users can send their first card in under 60-seconds.
"The combination of real printed greeting cards that link back to personalized online content really is the best of what online and offline communications has to offer. It's a unique blend of tradition and cutting edge technology. I've seen other solutions that let you send a single printed greeting card but the combination of the card and the online attachment really made the difference for me. By sending a card with an attachment, our consultants can deliver an impactful message that's also extremely personal. Even more, enthusem provides reporting that tells exactly who is looking at our online files, so as a marketing tool, our printed mailers are 100% measurable - that's an important benefit to us." said John Jantsch, award winning social media publisher, author and creator of the Duct Tape Marketing system.
"I was very excited to learn that John and his team decided to adopt enthusem. I've been a big admirer of the Duct Tape Marketing system and their decision to go with enthusem is more validation that we're on the right track. Businesses today need marketing tools and strategies that are easy, measurable, effective and affordable. Most budgets aren't getting bigger these days and marketing absolutely has to create a bottom line result - our enthusem service combined with a great methodology like that provided by Duct Tape Marketing does exactly that," commented Steve Tingiris the founder and CEO of Prospect Smarter, Inc. and enthusem.com.
About Duct Tape Marketing and John Jantsch
John Jantsch is a marketing and digital technology coach, award winning social media publisher and author of "Duct Tape Marketing - The World's Most Practical Small Business Marketing Guide" published by Thomas Nelson, with foreword by Michael Gerber, author of The E-Myth and afterword by Guy Kawasaki.
He is the creator of the Duct Tape Marketing small business marketing system and Duct Tape Marketing Authorized Coach Network.
His Duct Tape Marketing Blog was chosen as a Forbes favorite for small business and marketing and is a Harvard Business School featured marketing site. His blog was also chosen as "Best Small Business Marketing Blog" in 2004, 2005 and 2006 by the readers of Marketing Sherpa.
His "Hype" column can be found monthly in Entrepreneur magazine along with his podcast on Entrepreneur.com.
He is a presenter of popular marketing workshops for organizations such as the Small Business Administration, American Marketing Association, Kauffman Foundation, Painting and Decorating Contractors of America, Associated Builders and Contractors, National Association of the Remodeling Industry and the National Association of Tax Professionals.
About Enthusem:
Enthusem makes sending personalized PRINTED greeting cards as easy as sending an email. Even better, like an email, enthusem cards can include attachments. That's right; you can attach electronic files like videos, PDFs or web pages to printed greeting cards - and get email alerts when the files are viewed.
If that's not enough, you can also use any image you want for the front of the card, you can write your own personalize message, you can buy and send cards one-at-a-time and you can try enthusem for free.
Contact Angela Medlar for more information: (813)-321-1402
###