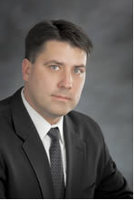 I am extremely pleased to have an executive with Joe White's strategic insight and industry experience join the RFID Global Solution team
Reston, VA (PRWEB) March 4, 2009
RFID Global Solution, Inc., the leading provider of real time visibility solutions for aerospace, defense and commercial clients, has hired Joe White, Motorola Vice President of RFID Business Development & Marketing, as Chief Operating Officer. Mr. White joins RFIDGS from Motorola's Enterprise Mobility Division, where he was the executive responsible for the strategy and growth of Motorola's RFID business. Prior to its acquisition by Motorola, Mr. White served as VP of RFID Product Management for Symbol Technologies, and he played a similar role at Matrics, where he led the development of first generation RFID solutions.
"I am extremely pleased to have an executive with Joe White's strategic insight and industry experience join the RFID Global Solution team," said Diana S. Hage, Chief Executive Officer, RFIDGS. "Joe's experience with all facets of the RFID market from engineering design to market development, from the early pioneering firms such as Matrics to the largest enterprise organizations such as Motorola, will provide us with insight needed to rapidly accelerate the growth of our solutions business. Mr. White has significant expertise in building RFID technologies and solutions that enhance business value, and brings a deep understanding of RFID applications in many industries." "Joe's experience in bringing emerging technology solutions to market maturity, along with his industry relationships, will help drive RFIDGS' growth as a global provider of leading-edge, real time visibility solutions," stated Joseph Leone, President and CTO, RFIDGS.
Mr. White, Ms. Hage and Mr. Leone have a proven track record for growing businesses into large, revenue-generating industry leaders together. At Symbol Technologies, Mr. White oversaw the growth of Symbol's industry-leading product portfolio of readers, tags and systems, working with Ms. Hage, Director, IBM Global Wireless Services, as their firms built a $400 million business in three years in RFID and Auto-ID technologies. At Matrics, Joe White led RFID Product Management, where he worked with Joseph Leone, Matrics' Senior VP, Professional Services, as they led the initial RFID deployments at Wal*Mart, Target and other Fortune 50 enterprises, culminating in Matrics' acquisition by Symbol for $230M in 2004. As the Chief Operating Officer for RFIDGS, Mr. White will be responsible for the firm's operations, software development, intellectual property and strategic alliances.
"RFIDGS has an extremely strong foundation of experience, customers, and products that uniquely deliver solutions for real time visibility using passive, active/RTLS, and sensor-based technology," said Mr. White. "I look forward to joining this world-class team, building out our solutions portfolio and dramatically scaling our growth."
About RFID Global Solution, Inc.
RFID Global Solution, Inc. is the leading provider of real time visibility solutions for defense, government and commercial clients. RFIDGS delivers enterprise asset visibility and the widest range of sensory data from active and passive RFID, GPS and Cellular technologies, in its award-winning, patented turnkey and custom products. RFIDGS provides asset tracking and visibility solutions to Aerospace & Defense, Government, Manufacturing, Transportation, and the Art & High Value Asset markets. RFIDGS' focus is on asset tracking, location awareness, security and supply chain visibility for high-value assets, tools, parts and supplies. For more information, visit RFID Global Solution.
###