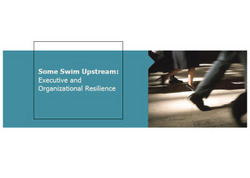 Resilience can reflect the character of people and the character of the organizational culture.
New York, NY (PRWEB) March 4, 2009
Faced with the worst economy in decades, organizations are struggling with the everyday reality of mass layoffs. A new white paper from Corporate Counseling Associates (CCA) states that the transition period after a downsizing is as equally challenging as the actual layoff event.
The complimentary paper, released today by the human capital consulting firm, offers tips and strategies for businesses that face employee pessimism, the burden of doing more with less, and a potential exodus of top performers.
"In the aftermath of a downsizing, people and organizations struggle with 'loss'—under such circumstances, clarity of thought and purpose can be the first thing to go," explains Dr. Thomas Diamante, an industrial psychologist and senior vice president at CCA. "Loss and its emotional baggage must be faced in a mature manner, on both the individual and organizational level. Managers need to re-engage and re-align the workforce... this paper is for HR professionals who are helping managers and employees manage the aftermath of a layoff event."
More than 2.5 million people lost their jobs in 2008 alone, according to the Bureau of Labor Statistics, and the national unemployment rate is expected to reach 7.6 percent in 2009.
Diamante notes that a typical transition model begins with disorientation, fear, uncertainty, anger and sadness, ultimately progressing to self-reflection. Employees reach a crossroads after a mass layoff event: they can travel up the path of control, hope and problem solving, or slide down the slope of self-doubt, hopelessness and conflict. A chief goal is to adjust employees' collective "state of mind" and transform pessimism into optimism.
"Optimism is how one thinks and resilience is how one acts — the ability not just to bounce back but also to learn, adapt and grow," he adds. "Resilience can reflect the character of people and the character of the organizational culture."
Employee engagement meetings are ideal forums to discuss transitions and help people acknowledge their response to life-changing events. Other methods discussed by CCA include leadership/coaching programs, resilience seminars, data-based feedback programs, employee assistance programs and more.
However, helping employees through the trauma of layoffs is only part of an effective response. Employees need to re-focus their company's long-term business outlook, and senior executives must communicate strategic objectives across the organization. Effective communications topics and methods are discussed.
The white paper also addresses the potential flight of high-performance employees who are lured by a global marketplace, and who are increasingly willing to make personal accommodations and sacrifices to stay engaged in their profession. Virtual teams, teleconferencing, telecommuting, and critical work-life benefits are touted as ways to retain a company's valuable workforce and keep them engaged.
Executives are challenged to honestly assess how their industry is changing and whether the corporate culture is locked in a comfortable, reactionary mode—and what steps must be taken to re-ignite their business strategy. Finally, the paper discusses ways to avoid litigation risks and what criteria a company should consider when deciding to bring in a consulting firm.
The CCA white paper can be downloaded at no charge at the following link: http://www.corporatecounseling.com/documents/CCA_white_paper_Feb18-09el.pdf
About Corporate Counseling Associates:
CCA manages critical people issues that place organizations at risk. In business for 25 years with over 250 top-tier accounts, CCA brings a full-time staff of industrial and organizational psychologists, clinical social workers/psychologists and counseling professionals to solve human capital-based business problems. CCA's integrated human capital consulting service offerings are: EAP & Work/Life, Learning & Development, and Organizational Consulting.
For more information, call (212) 686-6827 or visit http://www.corporatecounseling.com.
This press release was distributed through eMediawire by Human Resources Marketer (HR Marketer: http://www.HRmarketer.com) on behalf of the company listed above.
###