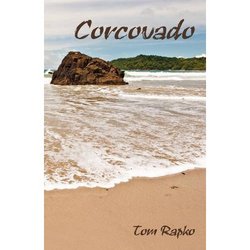 Boston, MA (PRWEB) March 5, 2009
Tom Rapko released his much-anticipated second novel today. Set in Costa Rica's Corcovado National Park, dubbed "the most biologically intense place on Earth" by the National Geographic Society, it pits man against Big Oil. Heavy on descriptive prose, Corcovado immerses the reader in one of the last truly pristine jungles in the world.
"My inspiration for this novel," author Tom Rapko's blue eyes lit up as he explained, "was pura vita, that distinctly Costa Rican way of living in harmony with nature. This story really came to life based on my frequent travel to Costa Rica, and in particular hiking, diving, and exploring Corcovado. It is simply overwhelming."
Tom Rapko smiled as he talked, "Ultimately, I wanted to share my experiences, particularly the intense sensory feel--the sight, smell, sound, touch, and even taste--of being in Corcovado. Frankly, I find it hard to believe some place like Corcovado still exists. I think my fans will really enjoy reading what living a pura vita is all about, that is the heart of Corcovado."
Your main character, he's flawed at the outset isn't he? "Without giving too much away," Tom nodded and continued the interview, "we see Declan Mares evolve into someone who embraces the purity of Corcovado. I wouldn't go so far as to call him a Byronic hero, but Declan's close."
What is your favorite line or moment in Corcovado? "Well," Tom thought for a second and said, "I really enjoy the sequence when the poachers are being pursued by park ranger Salvador Maria Antonio. 'Their throats were parched as only the hunted can taste.' Yeah, I like that one a lot. Fitting."
From Corcovado's back cover: "Here in this remote wilderness a story of life's struggle, passion, and worth unfolds. Declan Mares, an expatriate running an offshore sports betting service, scours the jungle for his fortune. Lepidopterist Lauren McAlister swings from the treetops continuing her PhD program, savoring the freedom and beauty so abundant in this national preserve. Salvador Maria Antonio is a veteran park ranger at the Sirena station juggling an explosion in poaching, unprecedented tourist inflows, and the realization that he may indeed be the last of his breed. In Corcovado their lives intersect, and ultimately intertwine, as together they face an insatiable, borderless enemy intent on siphoning off one of Corcovado's most valuable resources."
Corcovado, ISBN 9781440122064, is available in soft cover for $8.95 from all major book retailers including Amazon.com and Barnes & Noble.
Tom Rapko is an avid scuba diver and underwater photographer. When not underwater, he enjoys hiking, skiing, and writing short fiction. The author lives in Boston with his wonderful wife and their yellow labrador retriever Juniper.
Contact Information:
Tom Rapko
(617) 331-1784
###