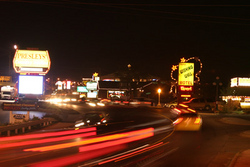 Live Entertainment Capital of the World
Branson, MO (Vocus) March 5, 2009
Budgets are tight across the country but that doesn't mean families have to skip out on the annual vacation. Affordable options are available and simple steps and tips can help families stay within budget. Maybe this isn't the year to go on that expensive vacation (Florida, New York, Caribbean), but that doesn't mean families still can't get away from the daily stresses of life. Consider Branson, Missouri. It's an affordable alternative loaded with family fun and entertainment options.
Branson, Missouri attracts nearly 7 million visitors a year and there are many reasons why. Top name entertainers take the stage nightly in over 100 show choices. So much so, that Branson is now known as the "Live Entertainment Capital of the World". Branson is the home of Silver Dollar City, an international award winning theme park. Shopping choices are abundant and adults and kids alike can enjoy the great outdoors on one of three local lakes great for fishing, relaxing and boating.
Choosing to take the family to an affordable destination like Branson and using few simple tips can help stretch the budget even farther.
Food: Everyone likes to eat out when visiting a new place to taste the local fare so why not ask a local about dining options. They can point visitors in the right direction for excellent service and culinary choices while also guiding visitors to places where you'll get the most bang for your buck. Lodging accommodations that offer small dinettes or kitchens give the option of eating in and storing snacks. Consider a vacation package. Many times they will include food vouchers.
Gas Busters: With the volatility of gas prices, making smart choices to avoid emptying the tank too fast is important. Branson is within a day's drive of nearly 2/3's of the United States population making it a viable, affordable and quick destination for a large percentage of vacationers.
Stop by the local tourism center and get the latest area map. One can avoid getting lost and can easily get to destinations via the quickest and least expensive routes. Look for deals. The Branson Tourism Center offers a gas discount when customers do business with them.
Free Stuff: Check out the scenery! It's free! Branson is surrounded by the beautiful Ozark Mountains and has three scenic lakes to enjoy. Many outdoor activities have little or no cost. Explore the marinas, go swimming and take the rod and reel for fishing. Do your homework before you leave town. There might be free festivals and special events going on. For example, Branson.com has a listing of all the upcoming events for locals and tourists.
With the right destination and a few money-saving tips family vacations for 2009 can be full of fun without breaking the bank. Start planning now and work with the local tourism center to enjoy a great family vacation in an affordable destination like Branson, Missouri.
###