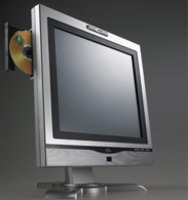 Cybernet iOne GX31 was a much needed relief from the unpredictable predecessors
Irvine, CA (PRWEB) March 5, 2009
After a series of tests that scanned and evaluated different computer systems, the IT staff of the Southern Illinois University School of Medicine (SIUMed) revealed that Cybernet iOne GX31 was by far the most reliable computer model for the university's hospital exam rooms.
The Cybernet iOne GX31 has consistently provided uninterrupted and unparalleled service to the hospital's doctors, nurses, and patients, according to B.J. Moore, IT manager of SIUMed.
The alarming 40% failure of the hospital's previous computers was the catalyst that led Moore and his staff to search for a new computer model. The previous computers record constant malfunctions, periodic system lockups, and shutdowns which render them highly unreliable in the hospital's critical care setup.
Of the numerous computers tested by Moore and his team, the Cybernet iOne GX31 proved to be the most reliable model when programmed for maximum efficiency with Citrix, the web interface program used by the hospital for easy transfer and retrieval of medical records. The iOne was unaffected by the huge demands placed on its system and consistently provided reliable access to critical data and records needed by the doctors and nurses.
Moore added that the Cybernet iOne GX31 has been showing great performance since it was first installed in the counters and carts of some of the hospital's exam rooms. He further added that the 25 computer units currently used in the hospital have not required any repair or service, increasing the hospital's overall IT productivity.
Cybernet iOne GX31's high reliability has helped Moore and his team provide more efficient service to the hospital's doctors and nurses, who themselves have high praises for the system.
"Cybernet iOne GX31 was a much needed relief from the unpredictable predecessors," one of the doctors commented.
The small PC may soon find its way to the hospital's nursing stations, where it is expected to help ease out overcrowded situations common to the said areas.
Cybernet iOne GX31 is a compact all-in-one LCD PC from Cybernet, a California-based global provider of innovative space-saving computers for use in financial, healthcare, and educational institutions. The company also provides mini PC, small PC, touchscreen computers, and its flagship product, the Zero-Footprint-PC. Details of these products and order forms are available at http://www.cybernetman.com
# # #