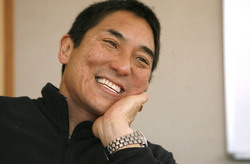 Reality Check: The Irreverent Guide to Outsmarting, Outmanaging, and Outmarketing Your Competition
New York, NY (PRWEB) March 4, 2009
Search Engine Strategies (SES), the leading and most established search engine marketing (SEM) and search engine optimization (SEO) conference and expo series, today announced that Guy Kawasaki and John Gerzema will give keynote speeches at SES New York, which will be held March 23-27, 2009. Leading up to the event, Kawasaki will discuss his latest book, "Reality Check: The Irreverent Guide to Outsmarting, Outmanaging, and Outmarketing Your Competition," and his upcoming keynote, "Twitter as a Tool for Social Media," during a free Webcast this Friday, March 6, from 1 to 2 p.m. (EST).
Matt McGowan, Vice President and Publisher for Incisive Media's Interactive Marketing Group, which includes Search Engine Strategies, Search Engine Watch and ClickZ, will host the SES Webcast with Kawasaki. To register for this event, go to SES Webcasts.
McGowan said, "We'll discuss Guy's most recent book, Reality Check, and get his insight into why Twitter is rapidly becoming the social media tool of the 21st Century. Our exclusive 60 minute closed-circuit webcast, which takes place in advance of Guy's keynote presentation at SES New York, is also your chance to engage Guy with specific strategic and business questions of your own."
Kawasaki is giving the opening keynote at SES New York on Tuesday, March 24, 2009. He is a founding partner and entrepreneur-in-residence at Garage Technology Ventures, a seed and early stage venture capital fund. He is also the co-founder of Alltop.com, an "online magazine rack" of popular topics on the web -- the success of which is attributed to social networking tools such as Twitter. He is considered one of the top 50 most popular bloggers worldwide, and was recently selected by Invesp.com as the #2 top marketer of 2008.
Kawasaki's newest book, Reality Check: The Irreverent Guide to Outsmarting, Outmanaging, and Outmarketing Your Competition (Portfolio, Penguin Group), was released on October 30, 2008. Reality Check is his all-in-one guide for starting and operating great organizations -- ones that stand the test of time and ignore any passing fads in business theory. He is also the author of eight books including The Art of the Start, Rules for Revolutionaries, How to Drive Your Competition Crazy, Selling the Dream, and The Macintosh Way.
Gerzema, the Chief Insights Officer at Young & Rubicam Group, is giving the morning keynote at SES New York on Thursday, March 26, 2009. The best-selling author and pioneer of account planning in American advertising agencies has designed brand strategies for clients for almost 25 years, guiding campaigns to international strategic and creative acclaim. He previously oversaw the international network for Fallon and founded offices in Tokyo, Singapore, Hong Kong and Sao Paolo.
Gerzema's new book, The Brand Bubble: The Looming Crisis in Brand Value and How To Avoid It, was voted #3 Best Business Book for 2008 from Amazon's editors and "Best Advertising and Marketing Book for 2008" from CEO Read. The book is currently on Business Week's Best Seller List.
Those who register for SES New York by Friday, March 6, 2009, will save up to $200.
About SES
Incisive Media's Search Engine Strategies is a leading global conference and training series focused on search engine optimization and search engine marketing. Other Incisive resources for interactive marketers include Search Engine Watch, which provides news and information about search, analysis of the search engine industry and tools for improving search marketing effectiveness, and ClickZ, which provides digital marketing news, information, commentary, advice, opinion and research.
Incisive Media is a leading global provider of specialized business news and information, in print, in person and online. The company's principal markets include financial services, legal services, commercial real estate, marketing services and risk management. Incisive Media's market-leading brands include Accountancy Age, Computing, Investment Week, Legal Week, LegalTech, Post, Real Estate Forum, Risk, Search Engine Strategies and The American Lawyer.
###