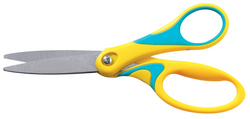 We are especially honored to be recognized by a group of educators for our newest kids' scissors. Supplying the highest quality classroom tools has always been an important goal for Fiskars, and there is nothing we value more than our relationship with teachers
Madison, WI (Vocus) March 4, 2009
The world's #1 scissors brand, Fiskars, announces that they have won the prestigious Teachers' Choice (SM) Award for the sixth year. Learning Magazine selected the Fiskars® Student Scissors with antimicrobial handle protection as the 2009 winner. These scissors have been a favorite of teachers, parents and kids since they were introduced last year.
"We are especially honored to be recognized by a group of educators for our newest kids' scissors. Supplying the highest quality classroom tools has always been an important goal for Fiskars, and there is nothing we value more than our relationship with teachers," says Paul Tonnesen, President of Fiskars Garden, School, Office, and Craft Division.
Fiskars are the #1 recommended scissors on teachers' school lists nationwide. Known for safety and quality, third party tests indicate that Fiskars® scissors outperform other leading brands on the market. Fiskars® scissors cut every time--whether it is foam, felt, or paper, which means frustration-free, successful cutting for kids.
According to Learning Magazine, the Teachers' Choicesm Awards reflect the very best in classroom-tested, teacher-recommended products. Each year their nationwide panel of teachers judge the standouts in books, classroom supplies, educational games, software, web sites, and more--everything for the classroom. After receiving top ratings in two rounds of rigorous judging, the Fiskars® Student Scissors with anti-microbial handle protection are a winner.
Fiskars has been recognized for excellence in cutting tools for 360 years. Fiskars® scissors are guaranteed for life.
ABOUT FISKARS:
Fiskars is a leading global supplier of consumer products for the home, garden and outdoors. The group has a strong portfolio of trusted international brands including Fiskars, Iittala, Gerber, Silva, and Buster. Associated company, Wärtsilä Corporation, is also an important part of the group, and forms one of Fiskars' operating segments, together with the Americas, EMEA, and Other. Founded in 1649 and listed on NASDAQ OMX Helsinki, Fiskars is Finland's oldest company.
Fiskars® scissors are warranted for as long as the original consumer/purchaser owns the product.
Anti-microbial handle protection inhibits the growth of bacterial odors and product deterioration.
For more information about Fiskars® kids' products, visit http://fiskarsschool.com/
To view or download high-resolution images of Fiskars® kids' scissors, go to:
http://pr.fiskarscrafts.com/ USERNAME: PRESS PASSWORD: FISKARS
For more information:
Suzanne Fanning
608.294.4509
sfanning(at)fiskars.com
###