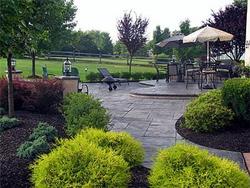 Yucaipa, CA (PRWEB) March 6, 2009
Designing the perfect concrete patio can pose many challenges to homeowners and builders, one of the biggest being shape and layout consideration. New website, ConcretePatio.org offers a detailed section on patio layout and shapes for consumers interested in investing in a new concrete patio. The site highlights common questions and considerations that may arise from starting such a project.
When designing a patio, it's important to choose between one large patio or several smaller ones depending on the size of the property and the patio's intended use. Designing a good patio consists of incorporating the existing home and landscape and creating an extension of these areas for entertaining year around.
Landscape designers agree that the best way to create a unique and functional backyard patio is to design the patio in separate areas. Rather than placing one large slab at the back of the house, it is better to create outdoor rooms with several smaller or separated slabs. This is largely dependent on how the patio area will be used, including typical number guests to be entertained, type of desired surface (i.e. patterned, colored, etc.) and many other factors outlined on the site.
The section also reminds consumers to think beyond the typical square or rectangular patio shape. Incorporating curves can give your patio some uniqueness and enhance the overall atmosphere. Visit the site's photo gallery for patio design ideas.
ConcretePatio.org is dedicated to helping consumers get started in asking the right questions and learning about what the possibilities are when it comes to building a functional and appealing patio. The site also brings together consumers and local concrete contractors by pointing to a nationwide contractor directory. Consumers can use the site to learn about concrete patios, choose photos of designs they like, and then access the directory for contact information for concrete patio contractors in their local area.
Photos courtesy of Concrete Impressions.
###