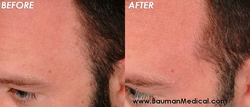 NeoGraft is an exciting new breakthrough for hair loss patients allowing more men and women to take advantage of the benefits of no-scalpel/no-stitch FUE hair transplants
Boca Raton, FL (PRWEB) March 5, 2009
A new European medical device now available in the U.S. can dramatically improve hair transplant surgery for male and female patients.
The FDA-approved NeoGraft automates the surgical removal of individual hair follicles, one at a time, eliminating the need for doctors to remove a large strip from the back of the scalp (a procedure known as a linear-harvest Follicular Unit Transplant or STRIP FUT). The targeted removal of individual hair follicles is known as "Follicular-Unit Extraction" or FUE, is a minimally-invasive microsurgical procedure that has been available for several years, but until now has been too time-consuming and costly for many patients.
"NeoGraft is an exciting new breakthrough for hair loss patients allowing more men and women to take advantage of the benefits of no-scalpel/no-stitch FUE hair transplants," said Alan J. Bauman, M.D., a board-certified hair restoration surgeon and one of the first U.S. doctors to perform hair transplantation with NeoGraft. "FUE has been an extremely effective surgical procedure that allows for the precise, artistic placement of new hair follicles to recreate a full and natural-looking hairline, while reducing recovery time and eliminating the tell-tale linear scar associated with traditional hair transplants."
According to Dr. Bauman, the key benefits of FUE surgery performed with NeoGraft are:

Least invasive hair transplant available
No 'tell-tale' linear scar where the donor hair is harvested
Shorter, more comfortable recovery
No stitches to be removed
Less activity restrictions after surgery
Very short haircuts are possible after surgery
Transplants roughly twice as many hair grafts (e.g. ~1,500 grafts) in a single surgery as the previous manually-performed FUE surgery (e.g. ~750 grafts) in the same amount of time.
Cuts the cost of treatment by as much as half as it reduces the need for additional surgeries
"Until now, FUE-type hair transplants were labor-intensive and time consuming, which meant that patients had to undergo multiple surgeries to get the desired effect," Bauman said. "Now that a more efficient automated device is available, experienced doctors may be able to double the number of grafts transplanted per session or shorten procedure times, saving patients both time and money."
For more information about FUE hair transplant surgery using the new NeoGraft device, visit Dr. Bauman's Web site at http://www.baumanmedical.com
About Dr. Alan Bauman:
Alan J. Bauman, M.D., founder of Bauman Medical Group in Boca Raton, Florida, is a top U.S. medical expert on hair loss and restoration for men and women, including eyelash, eyebrow and scalp transplants, as well as low level laser therapy. Dr. Bauman was the first hair transplant surgeon to demonstrate the FUE method of hair transplantation at the International Society of Hair Restoration Surgery's Orlando Live Surgery Workshop in 2004 and developed the first commercially-available instrument for manual extraction of FUE grafts, called the 'Bauman MINDEX.' Known for his expertise in female hair loss, approximately 50-percent of Dr. Bauman's patients are women. Recommended by the American Hair Loss Association, Dr. Bauman is a Diplomate of the American Board of Hair Restoration Surgery and a featured lecturer at major medical conferences. Websites: http://www.baumanmedical.com and http://www.youtube.com/baumanmedical
###