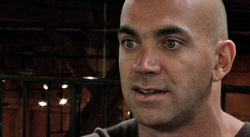 Sharing is much more important than protecting all of your ideas
San Francisco, CA (PRWEB) March 5, 2009
Web visionary and CEO of Seesmic, Loic Le Meur, says that online sharing is the great innovation brought about by the Internet. Sharing is changing everything, according to Le Meur, diminishing the divide between peoples, countries, and even the importance of protecting your ideas.
A video interview with Le Meur about the importance of online sharing is featured on IdeasProject.com, a unique website developed by Nokia. IdeasProject is an online space that provides a new way to interact with thought leaders and their big ideas about the future of connected communications. For more on Le Meur's big idea, visit http://www.ideasproject.com/idea_person.webui?id=528
"Sharing is much more important than protecting all of your ideas," said Le Meur. "It changes everything in the way we communicate, the way we get to know people across countries. Sharing allows you to stay in touch with your community. And the number one asset everyone has and many people still don't know about is the community."
"Our goal with the IdeasProject is to generate insight into where technology and communications are taking us," said Valerie Buckingham, director of technology marketing, Nokia. "Loic Le Meur is one of today's leading Web visionaries and his perception about the role the Internet can play in human society serves the premise of the IdeasProject, which is to generate big ideas on the impact of the greater disruptive technologies of our time."
For the next three months, visitors to IdeasProject.com have the opportunity to submit their own Big Idea. Editors will be regularly highlighting their favorite ideas, and sending a Nokia N95 to the Big Thinker who was selected. We'll also be featuring our favorite visitor-contributed Big Ideas along with the ideas of other ideasproject.com contributors.
About Loic Le Meur
Loic Le Meur is the CEO behind Seesmic (a community-driven video social software company). Le Meur founded Seesmic in 2007, with the goal of turning online video into a powerful medium for threaded, interactive video conversations. A seasoned entrepreneur, he launched several companies prior to Seesmic including: shared web hosting company RapidSite, (acquired by France Telecom) and B2L, an interactive agency (acquired by BBDO). His last company, Ublog, was acquired by SixApart, after which Loic became Chairman of SixApart Europe. Recently, Business Week Magazine named Loic one of The 25 Most Influential People on the Web.
About IdeasProject
IdeasProject, a project of Nokia hosted at http://www.ideasproject.com, brings together the most visionary and influential "big thinkers" to contemplate the big ideas that matter most to the future of communications. It is a new kind of conversation platform aimed at uncovering the connections between these thought leaders and their disruptive ideas. Explore the IdeasProject website, subscribe to its RSS feed, join its Twitter feed (IdeasProject), and come back often to learn about great new big ideas as they break.
About Nokia
Nokia is the world leader in mobility, driving the transformation and growth of the converging Internet and communications industries. We make a wide range of mobile devices with services and software that enable people to experience music, navigation, video, television, imaging, games, business mobility and more. Developing and growing our offering of consumer Internet services, as well as our enterprise solutions and software, is a key area of focus. We also provide equipment, solutions and services for communications networks through Nokia Siemens Networks.
###