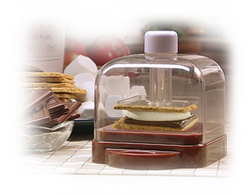 Williamsport, PA (PRWEB) March 6, 2009
Courtney Brown has created a unique device that makes Smores in the Microwave in less than 10 seconds. She calls it "MicroSmores."
In 1927, the Girl Scouts invented the popular campfire treat and named it "Smores," which is short for "Some More." Everyone knows the basic Smore recipe - 2 graham crackers with chocolate and marshmallow melted and smooshed in between. Now, over 80 years later, Courtney has re-invented the classic Smore by cooking them in the microwave.
Courtney was stuck indoors one day during a rainstorm but was determined to enjoy Smores. So she placed a marshmallow between grahams and chocolate on a plate in the microwave. The marshmallow expanded, causing everything to fall apart and stick to the plate.
Courtney's dad, a product developer who invented the famous Ab Roller exercise device, noticed her frustration and solved the problem by designing a simple device. The new Microsmores cooker has a square base and domed lid that holds the ingredients together while cooking in the microwave. The result is an easy way to make a smooshy-gooey Smore in just 10 seconds.
Microsmores was launched on the QVC home shopping cable channel last month and the product sold out in a few minutes! (The replay of the QVC on-air Microsmores presentation is available at http://www.QVC.com.)
A news channel in Missouri gave Microsmores a glowing review in a special news segment called "Does It Work?"
MicroSmores is now available for sale on a website at http://www.microsmores.com and via a TV commercial produced by Tristar Products Inc. Tristar is a recognized industry pioneer in DRTV advertising and product development. Tristar products include best-selling brands such as Jack LaLanne's Power Juicer and Montel Williams's Living Well products.
FOR MORE INFORMATION, CONTACT:
Tristar Products, Inc. 973-575-5400
###