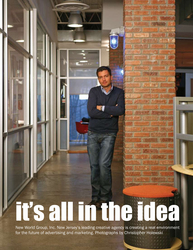 With our reputation growing strong in the movie industry, we felt it was important to develop a true presence on the West Coast. Sometimes the timing is just right...we saw that opportunity and jumped in
Secaucus, NJ (PRWEB) March 5, 2009
New World Group, Inc. was formed in 1995 as a small start-up design and printing company, to test the waters of the entertainment industry while allowing its owner and creative director, Chris Seriale, to delve into new technologies and artistic disciplines. Within ten years, Chris has expertly navigated New World Group to be a 20 million dollar printing, marketing, advertising and website design company.
New World's client list is as diverse as its talents, including such names as Warner Bros., Paramount Pictures, Warner Bros. Records, Disney, Capitol Music Group, Sony Pictures, the NJ Nets and the NY Giants. The company has also staked a claim in the real estate arena where it provides design and advertising services for some of the region's most prolific development companies.
New World Group is internationally recognized for its design, revenue-producing websites, and comprehensive marketing strategy approach. New World Group also serves as a full service printing company utilizing a 35,000 square foot state of the art printing facility. The demand for these services in entertainment set the stage for the necessary expansion.
"With our reputation growing strong in the movie industry, we felt it was important to develop a true presence on the West Coast. Sometimes the timing is just right...we saw that opportunity and jumped in," says owner, Chris Seriale.
Seriale maintains the theory that in order for the company to grow it must evolve with the clients to meet their needs. The need for the West Coast division became more apparent as the demand for New World's superior service and creative think-tank approach grew. This will better enable the company to serve the needs of their bi-coastal client base.
Speaking to the economic challenges of 2009, Chris Seriale states, "We've been in business a long time. We've seen the markets ebb and flow. Industries like the music industry for example, dramatically change, and we've been able to develop new ways for our business to thrive. Our knowledge and experience helps our clients to reach their goals. We really have learned to evolve within any financial climate."
Although it is recently opened, New World Group West is expected to gain momentum over the next few months and bring on new clients, servicing the already established entities and providing more and more marketing genius to the masses.
New World Group can be reached at 800.WORLD.80 or on the web at http://www.newworldgroup.com.
###