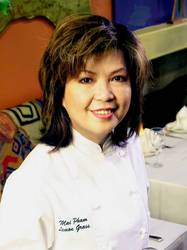 (Vocus) March 5, 2009
Sodexo carefully monitors students' taste buds to satisfy today's well-traveled, celebrity-chef exposed, green-minded coeds. Sodexo will host its fourth Food Trends Expo at Seattle Pacific University on March 13. More than 30 chefs will prepare 70 unique menu items, including those from Sodexo's Food Trends in 2009 list. Sodexo's Student Board of Directors, a group of 25 students who provide feedback and insight about students' preferences, along with 900 students from Seattle Pacific University will vote with their palates on their favorites. The results will form Sodexo's Fall 2009 dining menus for all 600 campuses it serves. Celebrity chef Mai Pham, whose flavors have influenced many of these trends, will be on hand to convey techniques of preparing Thai and Vietnamese cuisine.
What: Sodexo Food Trends Expo
Who: Celebrity Chef Mai Pham, Seattle Pacific University Students, Sodexo Student Board of Directors, 30 Chefs preparing trend-setting foods and flavors college kids are craving
When: March 13, 2009 11 a.m. - 2 p.m. (PT)
Where: Gwinn Commons, 3310 Sixth Ave West, Seattle, 98119
Photo Op: Celebrity Chef Mai Pham signing her new book "Pleasures of the Vietnamese Table". Also on hand to share her knowledge of Vietnamese and Thai cuisine with Sodexo chefs.
Sodexo, Inc.
Sodexo, Inc. (http://www.sodexoUSA.com) is a leading integrated facilities management services company in the U.S., Canada, and Mexico, with $7.7 billion (USD) in annual revenue and 120,000 employees. Sodexo serves more than ten million customers daily in corporations, health care, long term care and retirement centers, schools, college campuses, government, and remote sites. Sodexo, Inc., headquartered in Gaithersburg, Md., is a member of Sodexo Group, and funds all administrative costs for the Sodexo Foundation (http://www.sodexofoundation.org), an independent charitable organization that, since its founding in 1999, has made more than $11 million in grants to fight hunger in America.
Contact:
Monica Zimmer, Sodexo, 301-987-4461
Lara Seng, Sodexo, 206-459-6901
###