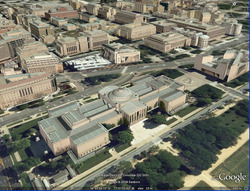 El Segundo, CA (PRWEB) March 4, 2009
CyberCity 3D, Inc. of El Segundo, CA today announced a partnership with Minneapolis, MN GEOSPAN Corporation to produce 3D city models.
The agreement allows CyberCity 3D to build and publish new 3D city models with GEOSPAN's GEOVISTA® imagery products. It also gives CyberCity 3D access to GEOSPAN's vast library of aerial/oblique images for 3D modeling. Future GEOSPAN customers will have the opportunity to utilize 3D city models when acquiring data from GEOSPAN and its partner companies.
GEOSPAN, a pioneer in the field of Visual Geographic Information™, will use models created under the agreement as part of a larger initiative to unlock opportunities in web search, advertising, real estate, travel, navigation, and governmental markets.
CyberCity 3D, a state-of-the-art, 3D geospatial modeling company specializing in emerging GeoWeb solutions for the real estate, travel destination, and geographic information systems (GIS) industries, will expand its growing city model library with the help of GEOVISTA® imagery. CyberCity 3D, with its core business in web publishing, is a significant contributor of 3D city models to Google Earth™. Municipalities such as Santa Monica, Paris, Honolulu, and Manhattan Beach are featured along with several other cities on Google Earth™.
"We are pleased to be partnering with GEOSPAN Corporation, a leading industry provider of accurate oblique aerial and integrated 360° street-level imagery. Combining its GEOVISTA® imagery and marketing strength with our proprietary 3D Modeling Software is a win-win for both companies."
The partnership's first project is a 3D model of St. Paul, Minnesota.
###