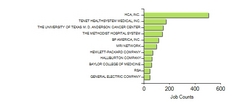 Beachwood, OH (PRWEB) March 5, 2009
EmployOn, LLC is pleased to announce the release of Labor Insight, an online labor market intelligence and analysis system that shows up to the minute hiring trends of North American companies.
Using its patented web-based technology, LaborInsight searches the Internet and aggregates information on job openings from a variety of sources, including job boards, recruiter sites, educational institutions, governmental entities, and individual corporate websites. In fact, each day LaborInsight visits over 200,000 sites, compiling information on hundreds of thousands of jobs.
This detailed information is then categorized by geographic location, industry, occupation, company, and even by individual job title so that hiring trends and declining occupations can be easily identified enabling Economic and Workforce development agencies to more effectively plan training and education programs for displaced workers.
"The great thing about Labor Insight is that it shows that even in today's slow economy there are still many companies that are growing and hiring. Labor Insight shows you who they are, what they're hiring for, and how they're trending over time", says Chris Amato, CEO of EmployOn, LLC.
LaborInsight also provides direct access to other labor market resources including the Bureau of Labor Statistics and the US Census Bureau.
More information can be found can be found at http://www.laborinsight.com.
EmployOn is the industry leader in technology-based Labor Market Intelligence since 1999. Headquarters are located at 2000 Auburn Drive, Beachwood, OH, 44122. Phone: 800-448-3735. http://www.employon.com
###