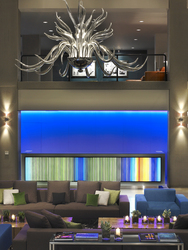 Without the international collection of glass art showcased in the hotel, we could not have achieved this honor
Tacoma, WA (PRWEB) March 5, 2009
Hotel Murano, an international glass hotel, is honored with an award in the "Best Lobby/Public Space - Full Service" category at HotelWorld's Global Hospitality & Design Awards competition on March 3, 2009, in Las Vegas.
"Without the international collection of glass art showcased in the hotel, we could not have achieved this honor," said Denise Corso, principal of CorsoStaicoff. "The design team focused on making the Murano an interesting and memorable experience while ensuring the design did not overshadow or interrupt the art and its continuity in the hotel."
With multiple entries from all over the world, the Murano design team lead by CorsoStaicoff and Art Curator Tessa Papas is truly honored to be among this caliber of designers and hospitality entries. The entries were judged by the editorial staff of Hotel & Motel Management, Hotel Design and Luxury Hotelier magazines while design awards were judged by Jeff Ornstein, founder of J/Brice Design International and Dana Kalczak, Vice President, Design and Construction, Four Season Hotel & Resorts.
This award is the Hotel Murano's seventh award honoring its design. The full award list is below:
2008 Judges Award for Best Use of Art (Hospitality Design Magazine)
2008 NW Design Award (sponsored by the Seattle Design Center) - Runner Up in the Hospitality Design Category
2008 Roots Award in the "Portland, World" Category
2008 IIDA (Oregon Chapter) Hospitality Category - Winner
2008 IIDA (Oregon Chapter) Best of Show
2008 AMOCAT Art Awards (City of Tacoma)
2009 2nd Annual HotelWorld Global Hospitality & Design Awards "Best Lobby/Public Space Design (Full Service Hotel)"
The Hotel Murano is owned by Provenance Hotels which also owns the Hotel Lucia in Portland, Ore., Hotel deLuxe in Portland, Ore., Hotel Max in Seattle, Wash., and Hotel Preston in Nashville, Tenn.
The Tacoma, WA hotel opened in March 2008 providing a unique forum for more than 45 glass artists from around the world - all using different techniques with a glass medium.
About Hotel Murano
Like its sister hotel in Portland, Ore., Hotel Lucia (Travel + Leisure's Top 500 Hotels in the World and on Condé Nast Traveler's Gold List) or the Hotel deLuxe (Condé Nast Traveler's Hot List and Gold List) in Portland, Ore., the Hotel Murano (1320 Broadway Plaza, Tacoma, Wash., 98402 - 253.238.8000) will be unique in the Northwest with its art-inspired design and magnified focus on personal guest services. In addition to the Hotel Lucia and the Hotel deLuxe, the Hotel Murano's family also includes the Hotel Max in Seattle, Wash., opened in October of 2005 and the Hotel Preston in Nashville, Tenn., opened in March of 2004. For more information in regards to the opening of the hotel, visit http://www.hotelmuranotacoma.com for updates.
###