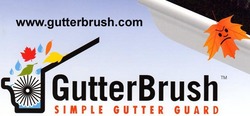 Newport, RI (PRWEB) March 7, 2009
The GutterBrush Guys, LLC. (http://www.gutterbrush.com) are pleased to announce that GutterBrush Simple Gutter Guard is now available through Do it Best Corp. member stores through their new approved vendor relationship.
Do it Best Corp. was founded in 1945 as Hardware Wholesalers, Inc., and combines the buying capacity of many independently owned hardware and home improvement retailers in order to help those retailers provide great products at great prices. Do it Best Corp. has 4,100 members located throughout the United States and in 47 countries worldwide. Their members have a long tradition of providing great service in their local communities. Do it Best Corp. is the only full-line, full-service buying cooperative in the hardware, lumber and building materials industry.
About GutterBrush Simple Gutter Guard™
GutterBrush is the simple, affordable solution to prevent gutter clogs and the build up of leaves and debris in rain gutters. Similar to a large bottle brush, GutterBrush fills existing gutters with stiff, durable, UV protected bristles creating an effective barrier to leaves and debris while allowing water to flow through the brush and gutter path. GutterBrush is the simple preferred alternative to gutter screens or gutter covers and can be installed with all roof and gutter types. Contractors and homeowners agree, GutterBrush Simple Gutter Guard™ is the best gutter protection system available on the market today. http://www.gutterbrush.com (GutterBrush Website)
Benefits of GutterBrush Gutter Protection
Safety should always be considered first. If you are not comfortable on a ladder cleaning your gutters you should hire a professional. That being said, gutter protection is essential to keeping your home safe from foundation damage, roof damage and landscape erosion. Installing GutterBrush is a safe, effective way of protecting your home. Quality, functioning gutters are essential to avoid expensive damage caused by moisture related issues when it rains. Here are just a few problems that an effective gutter protection system can help to avoid:

Rotting out of Fascia Boards
Growth of Mold (Interior and Exterior)
Leaky Roofs
Siding Damage
Foundation Damage
Water In Your Basement
GutterBrush provides customers with a simple, effective, and affordable gutter guard that is also a safe alternative to climbing a ladder and cleaning your gutters out year after year.
###