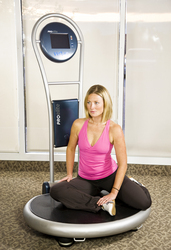 Its low impact nature makes WAVE the exercise of choice for those that can't handle the stresses of conventional training
Toronto, Ontario (Vocus) March 6, 2009
WAVE Whole-Body Advanced Vibration Exercise is one of the fastest growing exercise solutions on the market today and to celebrate,
WAVE has announced that they will be launching their first consumer model this spring.
WAVE Contour Plus will offer users the opportunity to get an hour of results in one 15 minute session using the device.
The movement of the device's vibration platform simulates the body's natural stretch reflex through involuntary muscle contractions - similar to the knee jerk reaction that occurs when the knee is tapped by a reflex hammer in a doctor's office. This strong involuntary muscle contraction, combined with a frequency of up to 50 contractions per second, can produce up to 3,000 muscle contractions in one minute.
As a result of multiple muscle contractions occurring each second a user is engaged in vibration exercise, more muscles are targeted than with conventional exercise – nearly 100 percent using WAVE versus 40 percent with conventional exercise. All of this is accomplished with minimal stress on the joints, giving users of all ages and fitness levels an accelerated whole-body workout in as little as 15 minutes, three times a week.
"Its low impact nature makes WAVE the exercise of choice for those that can't handle the stresses of conventional training," says Jasper Sidhu, DC, Vice President of Clinical Services.
The benefits of WAVE vibration exercise include accelerated weight loss, increased strength, circulation, and muscle tone, positive effects on bone density, and minimal stress on joints.
Designed by a team of health and fitness professionals, WAVE's advanced patented technology is already being utilized by medical and rehabilitation facilities, professional and Olympic athletes, and celebrities.
More than 40 years of clinical research has been conducted on the effectiveness of whole-body vibration. The technology was originally designed to treat bone and lean muscle mass loss in cosmonauts who spent considerable time in a weightless environment, in addition to enhancing power and strength and accelerating recovery in Russian Olympic athletes.
For more information on WAVE Whole-Body Advanced Vibration Exercise, contact Stefanie Duri or visit http://www.wavexercise.com. WAVE Contour Plus units will be available for consumer purchase in spring 2009 on the company's website.
About WAVE Whole-Body Advanced Vibration Exercise:
WAVE Whole-Body Advanced Vibration Exercise is a North American company that focuses on the manufacture, education, research and training of vibration exercise technology. The wide areas of benefits that WAVE technology provides is from strength gains in only 15 minutes a day, three times a week, to increased circulation, flexibility, positive benefits on bone density, and minimal stress on the joints. WAVE technology works by pushing the user's body upwards – two to four millimeters – against gravity, resulting in involuntary muscle contractions. These contractions can be repeated at a rapid rate, recruiting nearly 100 percent of muscle fibers. At a safe frequency of 20 to 50 muscle contractions a second, the machine can produce up to 3,000 contractions a minute – the equivalent of 3,000 knee bends. Results are achieved in a fraction of the time of conventional exercise. For more information about WAVE, visit http://www.wavexercise.com or call 866.420.7546.
###