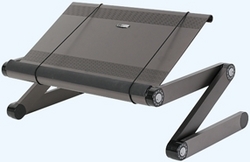 Rancho Cucamonga, CA (PRWEB) March 7, 2009
Exemplifying its company mission of supporting its customers, LapWorks - a manufacturer of portable laptop desks and desk stands - is reaching out to owners of the malfunctioning Lapdawg X4 lap desks with a unique proposition. X4 users that report broken legs on their desks after their warranty has expired can contact LapWorks and receive a free set of replacement hinge joints for their malfunctioning X4.
"We have always has a strong commitment of supporting our customers" said Jose Calero, President of LapWorks, Inc. "When we read about the many disgruntled Lapdawg customers complaining about their X4, we knew we had to do something. The number of online complaints about the X4 was giving our Wizard a bad name."
LapWorks then contacted the manufacturer and worked out an agreement where the manufacturer would provide Lapworks with replacement parts for any Lapdawg X4 customer who wanted the replacement hinge joints at no charge for as long as they owned their X4 or Wizard Desk Stand.
LapWorks markets the X4 as the Wizard Multi-Configurable Desktop Stand, and the most current version of the hardware boasts sturdier legs due to improvements in the hinge joints. According to Charles Moore of Macopinion.com, "if the Wizard looks familiar, it is indeed virtually identical to another product sold under the "Lapdawg" brand name."
To request a replacement part for your X4 desk, contact corporate @ laptopdesk.net.
About LapWorks:
As the provider of the best selling lap desks in the nation, LapWorks is proud to bring students, employees, and homeowners quality Notebook Computer Stands, Laptop Desks, and gaming equipment to enhance their computer usage. In addition, products from LapWorks are ergonomically designed for comfort and feature cooling capabilities to preserve the integrity of your laptop. Get your Laptop Accessories and more from http://www.laptopdesk.net.
Are you a journalist or blogger interested in a evaluation copy of the latest LapWorks products? Contact jose @ laptopdesk.net.
# # #